San Sebastian
A day trip to San Sebastian is like traveling back in time to Old Mexico. Thanks to the new paved road, it is now feasible to see the town on an easy day trip from Puerto Vallarta. In the old days, it was necessary to brave miles of rutted dirt roads or to fly in to the nearby tiny airstrip. From where Villa Encantada is located on the south side of Puerto Vallarta, the whole 40 mile trip can easily be done in two hours. It is an easy, pretty drive. San Sebastian is located at 4900 feet so it's temperature and humidity levels are less than Puerto Vallarta.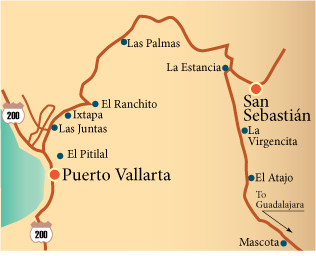 Getting There
From Amapas/Conchas Chinas on the south side of Puerto Vallarta, take the tunnel road north to the airport. Go nine miles until you are past the airport. Just past a Home Depot store on the right, you will see an exit to the right that says Las Juntas/Universidad. Take this. Keep going inland, and at approximately mile 24 of the trip you will come to a Y in the road. Follow the Mascota sign to the right. Keep going until you get to the town of Estancia. You will see a sign to San Sebastian on the left. Turn left here and follow the road about four miles until you get to San Sebastian. This final part of the road is rougher than the main road, but is still very passable.
San Sebastian's History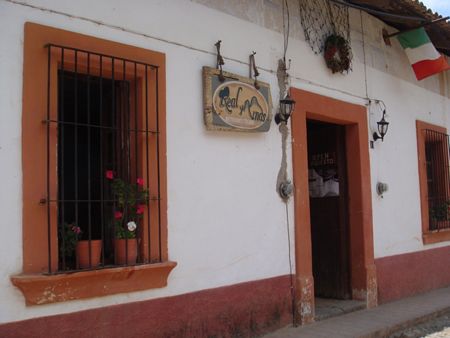 San Sebastian's origin goes back to the 1600's when silver veins were discovered in the area by Spanish conquistadors. It continued to grow until by the 1700's its population was over 20,000 people with wealthy hacienda owners operating thirty silver mines. During all this time the city remained self sufficient, manufacturing and producing locally almost all its needs. What few items were needed from the outside were brought in from Puerto Vallarta and Guadalajara on a primitive path system. San Sebastian's secluded mountainous surroundings kept it isolated from the next closest cities. With the depletion of its silver mines in the 1900's and the end of the hacienda system as a result of the Mexican Revolution, San Sebastian's population severely declined. The final deathblow was the roads that were brought in during the 1950's, allowing it's younger people to find better work in other places. Today its population is under 1000 people.
San Sebastian – What's It All About?
San Sebastian is wonderfully preserved and is surrounded by pine forests in the midst of the hills of the Sierra Madre Mountains at an altitude of 4900 feet. Time has stood still in this city. Most of the buildings are over 200 years old and all have white plaster walls with Spanish tile roofs that in some cases date back several centuries. These combine with cobblestone streets, numerous archways, old wooden doors and trim to provide an architectural style that is uniformly unique. The city begs to be explored. You can follow its many stone walled paths to avocado orchards interspersed with old houses and mining haciendas along the river and the edges of the city.
Things To Do In San Sebastian
Bring comfortable walking shoes for San Sebastian's cobblestone streets. If you will be there in the evening, bring pants and a sweater since it can be chilly at times. If you are an adrenaline junky, San Sebastian will NOT be for you. San Sebastian, with its low rise white plaster buildings, old wood trim, and Spanish tile roofs is truly a trip back in time. There is not a whole lot to do there – San Sebastian is about walking around and taking in this beautiful little city and its slow pace of life. On the other hand, if you are up for a serene trip back to the Mexico of generations ago, this is the place!
La Quinta organic coffee farm is run by Rafael and his wife Rosa who are the fifth generation carrying on the tradition of planting, sowing, drying and roasting organic coffee. The store is right at the entrance to San Sebastian.It produces organic coffee with both coffee and mocha blends. You can try some of their coffee in the rustic building where they process the coffee. You can buy some there as well as the great handmade fruit rolls they have. They have 25,000 trees and manage to process coffee year round on a surprisingly small amount of equipment. They will give you a short tour around. Rafael's mother (whose picture is shown on the coffee bags they sell0 passed away recently—she had over 20 children and 100 randchildren!—must be the coffee!
Temple of San Sebastian: The Church, built in 1608, is next to the town square. It has some amazingly intricate architecture with arches and is interesting to see.
Hotel El Pabellon: Located on the central plaza, this was a fortress in the old days where silver was stored while awaiting shipment. It used to have guard turrets on all its corners. There is one remaining turret that is now part of a local bar. The banditos were so successful that a tunnel was dug from one of the mines to the fortress, so the shipment couldn't be stolen!
El Cerro de La Bufa: If you have a 4-wheel vehicle, you can drive up here to see a great view of Banderas Bay.
Hacienda Jalisco: Expat Bud Acord's lovingly restored hacienda. He will let you take a look around.
Various Shops: Where you can find silver jewelry and sundry other items.
San Sebastian Silver Festival: This festival celebrates the city's mining origins. It is a three-day festival from May 23-25. You can get information about it from the San Sebastian Cultural Foundation, 322 297 2935.
Places To Eat
Real y Minas. This lovely small Italian restaurant is a MUST DO. The setting is lovely and the fabulous food will make you feel like you are in Italy. Walter, an Italian, and his lovely wife Coco, who he met in San Sebastian, are the owners. The thin crust pizza is to die for, and the lasagna absolutely melts in your mouth—world class! Calle Pipila #11.
Los Arrayanes. Traditional Mexican food in a restored home.
El Fortin. A varied and flavorful menu. Their corn bread is great.
Los Arcos. Is located on the main plaza. A good place to have breakfast and people watch.