AIR TOURS: A short flight in a 17 seat Caravan Turbo Prop will take you to interesting spots like San Sebastian (a 400 year old mining town in the Sierra Madre Mountains), a Huichol Indians village, Copper Canyon, Morelia to see the butterfly migration (January and February are the best months), Guadalajara, the city of Tequila, or the Tamarindo golf course near Careyes.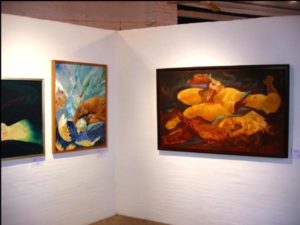 ART CLASSES: Learn or improve your artistic technique in watercolor drawing, oil painting, or mixed media at the Instituto de Arte. Class instructors are local artists: Angeline Kiyba, Meridy Volz, Geoff Watkinson.
ART GALLERIES: With the exception of Mexico City, Puerto Vallarta has more good art galleries than anywhere else in Mexico. Artists from around the world gravitate to Puerto Vallarta's beauty, which they mirror in their work – folk art, oils, water colors, ceramics, sculpture, jewelry, poetry, writing, fashion: the list is endless. Two art gallery areas are Leona Vicario Street across from Café de Artistes Restaurant, and the area on Corona Street.
For a great list of galleries: www.discoveryvallarta.com/Artgalleries-culture
ART STUDIO TOUR: Enjoy meeting artists in the natural environment of their homes and studios on these tours of art workshops. The artist availability varies, but the four hour tour usually includes three to five stops. Guide Garry Thompson, owner of the Galeria Pacifico, is well-informed on every aspect of the thriving Puerto Vallarta and Mexican art scene, and he happily shares his knowledge. The USD $25 tour fee goes to support the local art museum and art education programs in the area.
ART WALK: One of the most popular yearly events in Puerto Vallarta. During the high season, from November through March, Wednesdays, 6:10 p.m, seventeen Old Town art galleries invite you to join them for free cocktail art expositions. All of the participating galleries are located in the historic center of Puerto Vallarta, within easy walking distance of the Main Plaza.
ART WALK ON THE MALECON: Try a stroll on the Malecon for your own tour of some amazing bronze sculptures next to the beach, and many times, sand sculptures!
BAKERIES:
Artisan Bakery, superb artisan breads, real San Francisco sourdough, and many others. Morelos #875.
Pie in the Sky:Lazaro Cardenas #247, Zona Romantica, 322 223 8183, world class deserts. Try the chocolate besos.
Paradise Bakery:Sierra Aconcagua #299, 322 222 5133 fabulous cinammon rolls
The Deli:Venustiano Carranza #311B
Pie Lady of Yelapa: (Constitucion, east side across from Rizo's), supposed to have good pies.
Fondants: #236 Matamoros, has great and inexpensive cream cheese filled pastries, but
they are usually all gone by 9am-so get there early!. Also has flavored coffees,mochas,etc. Their great grilled foccachio sandwiches are large and a bargain for only 50 pesos. 322 222 8828
Dee's: Rodolfo Gomez
Panderia y Pasterleria Yarita: Basillo Badillo #244, good empenadas
Paris Cafe: Corner of Pino Suarez #158, across from side entrance to Molina de Agua Condos, great French bakery, great croissants and tarts.
BAR SCENE: For a great list of PV bars and info on each one: www.pvscene.com/7434/puerto-vallarta-bar-guide/
BARBECUED RIBS:
Cafe de Olla: Has GREAT barbecued ribs and double-baked potatoes
El Rio BBQ has great pulled pork and great ribs. Its a great hangout spot in Paso Ancho on the Rio Cuale. Has a great two man rock band, Bob and Gilberto, on Fridays from 4-6 pm.
BEACH CLUBS ON MUERTOS BEACH: Muertos Beach in Zona Romantica is the busiest, most popular beach in downtown PV. It's got lots of restaurants and bars directly on the beach and is a major hangout spot. If you like it quieter, and with very few vendors, then try Conchas Chinas Beach on the southside.
Beach House Restaurant and Bar: A popular Beach Club on Muertos beach. Large umbrellas provide plenty of shade. High quality beach chairs and loungers. Beach towel service. All this is free provided you buy food and drinks ($15 minimum per person). Their food and salads are good for a beach club. Not as inexpensive as Burros Bar, but higher quality and you can hang out there on the beach all day if you want to on their loungers. Also have best vegetarian selection on Muertos. A favorite of many. Marco and his staff do a nice job. You can reserve a spot by phone 222 3198.
La Palapa has very good chairs and umbrellas, and nice bathroom facilities. It is a little pricier than the others, but the food and service are very good. You can reserve beach chairs and they won't charge you for them if you are buying food or drinks from them.
El Doradao Restaurant will rent chairs, tables, and umbrellas for 50 pesos a person for the day. Price includes a drink.
Others: Fidencios, Langostinos, and Cuates and Cuetes.
BEST DRINK NOMINATIONS:
Joe Jacks Fish Shack: One of the best Mojitos in Vallarta! Regular or with pineapple or ginger. 2 for 1 , $7.50 two shot mojitos, noon to 7 pm, pleasant open second floor.
Café Roma: Coldest beers. Great mango and lime margaritas, overlooking the river. Encino #287
Cheeky Monkey: (best on price)$1 margaritas, $1 beers, and great view of Malecon.
Burros on the beach at Muertos: very laidback (plastic chairs on the beach under palapas, good music), has good 22 ounce, 3 shot margaritas for $5.
Pipi's: Watermelon margaritas and other fruit flavored margaritas. Noisy, touristy, and Margaritas are $7.50 apiece, but they are huge and your first order of guacamole, made at your table is free.
La Bodeguita del Medio: Mojitos Cuban style with dark Cuban rum, may be the tastiest Mojito in PV.
Steakhouse Brazil: Brazilian Mojito
Daquiri Dick's: Margarita Linda
Don Crispins Tequilery: Raicilla
Brando's in the Marina: Margaritas with hand squeezed limes and tequila
Banana Cantina: Mojitos
Andale's: Huge $5 mango margaritas.
Club Roxy: Margaritas
BICYCLE TOURS: Biking within the city isn't practical because of cobblestone streets and traffic, but Puerto Vallarta has many interesting bike tours in the surrounding areas.
Bike Mex: Oscar, Calle Guerrero #361, 322 222 1895. Has several different trips along rivers and through jungles, and of different ability levels. JR recommends.
Ecoride Tours: Offers several rides ranging from a 3.5 hour ride along the Rio Cuale for $40, to jungle and single track rides lasting 6 hours for $60 to $85 depending on the ride, Miramar #382, www.ecoridemex.com
Biking On Your Own: One area to bike is to go to the pueblo of Pasa Ancho and to bike along the dirt road that goes along the river in an upriver direction. It is relatively flat for two miles or so, then starts to head gradually uphill. It's not real mountain biking, but it is a pleasant ride. A great way to finish your bike ride is with a drink at the Rio BBQ just past Paso Ancho directly on the river.
Bicycle Rentals: Bike Mex and Ecoride above both rent bikes.
BIRD WATCHING:
Laguna de Quelele – You can hike around this lagoon in Nuevo Vallarta.
Gerardo Hernandez, birding guide, gerardomexico@yahoo.com.mx, 322 227 9750
Self guided: See San Blas description under Land Activities
General info: google: birding the Americas under Jalisco and Nayarit (Blake Maybank)
BINGO: Every Thursday and Saturday at the Restaurant Santa Barbara.
BOOKS, PAPERBACKS, MAGAZINES, AND NEWSPAPERS:
Book Store, #172 Corona and Libros
Libros , #127 31 de Octubre
Page in the Sun, offers visitors a great place to sit and read, while drinking delicious juice, good coffee and snacks. Has a bookswap section.
BOTANICAL GARDEN: The Puerto Vallarta Botanical Garden is a beautiful 24 acre botanical collection with 3000 plant species including a tree fern garden, a 6000 plant aguave cactus garden, palm gardens, orchid house, tropical bird watching, jungle trails, thousands of native and ornamental plants, and a beautiful Plantation House Visitor Center and Restaurant (with great wood brick oven pizzas). Bring a towel and shorts and you can swim in the small river located there. There are pools located among the rocks. Located approximately 12 miles south of PV and a 30-40 minute drive along the coastline on Highway 200 Km. 24 between PV and El Tuito. You can take a $20 taxi ride each way or a $2 bus ride. Just catch the bus to El Tuito which leaves every half hour in the Zona Romantica at Carranzas and Aguacate Streets. Sit on the ocean side of the bus for a better view. Open Tues-Sun 9:6
BOWLING: Collage Disco at the Sport Center has bowling, pool tables and video games in downtown Vallarta.
BREAKFAST: Great Places to Have Breakfast
La Playita Restaurant: at Lindo Mar Condominiums, on the highway south of town is has very reasonable breakfast prices with a fabulous view right over the ocean. On Sundays they have a $12 brunch.
La Palapa Restaurant: on Muertos Beach, a great beachside setting for breakfast. Have breakfast for around $10 a person. It's a great way to experience La Palapa if you don't want to pay it's fairly high dinner prices.
Le Bistro, Insurgentes, on the Rio Cuale right next to the bridge, has a reasonably priced high quality breakfast. A beautiful restaurant in a beautiful river setting.
Hacienda San Angel (above): located in a boutique hotel with charming architecture. Make breakfast reservations ahead of time.
Freddys Tucan: on Basillo Badillo. Freddy's is a Puerto Vallarta tradition for locals and expats. Very good, reasonably priced breakfasts, in a pleasant diner setting, with great waiters. Not as fancy as the others on this breakfast list, but definitely a great place to have breakfast. Don't miss their strawberry crepes.
Fondants: at #236 Matamoros, is a small Mexican bakery not a breakfast restaurant, but you can get very reasonably priced cream cheese pastries, coffee, and huge grilled foccachio sandwiches for a very inexpensive breakfast.
BULLFIGHTING: The bullring recently closed.
CANDY:
Xocadiva at 168 Basillo Badillo in the Zona Romantica is a very high quality candy store with fantastic Belgian chocolate.
Azteca: candy shop on Libertad two blocks north of the Insurgentes bridgewith low cost Mexican candies.
Dulcería Con Orgullo Azteca, Juárez 449 (El Centro) at corner of Mina St., which offers traditional Aztec confections, including mueganos (fried flour puffs), seed and amaranth concoctions, and an unusual selection of dried fruits.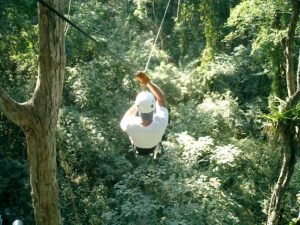 CANOPY TOURS: On this exciting ecoadventure tour you will experience pulse-stopping view of one of the most beautiful and complex biological communities on earth. Feel the rush of adrenalin pump through your veins as you whoosh from platform to platform, 90 ft (30 meters) above the forest floor! A series of thrilling zip lines gives you the maximum opportunity to marvel at the stunning, tropical setting as you effortlessly traverse through the huge tropical trees, amongst wild orchids and a diversity of native birds and reptiles.
Canopy Tours de Los Veranos, 223-0504, www.canopytours-vallarta.com Las Veranos is the longest and best. Cost is approximately $825 pesos per person. In the summer, they are often closed Sundays, so check. Clients of Villa Encantada receive a significant discount—just ask our houseman about it. They require a 50% deposit for parties of 6 or more.
CEVICHE: Good spots for ceviche!
Joe Jacks: Shrimp in agua chile ceviche. Spicy but good.
El Baracuda: great Peruvian ceviche (next to Buenaventura Hotel)
Burros: reasonable priced
Colera: Lazaro Cardenas #542. JR says best camarones aguachile and way cheap!
CHARREADA: Mexican Rodeo is usually held on Sundays in Puerto Vallarta and can be very interesting if you enjoy riding and roping.
CHILDREN; IDEAS FOR CHILD FRIENDLY ACTIVITIES
Malecon: Take them to the Malecon on Sunday to watch the different entertainers, eat grilled corn on the cob and cotton candy, while sharing the adventure with locals and tourists.
Sea Life Water Park
Marigalante Pirate Ship Day Trip
Sea Turtle Preservation Program-provides enclosed pens for incubating eggs and an unforgettable experience for those who take part in the release of the baby turtles on their voyage out to sea.
See crocodiles at the University of Guadalajara in Ixtapa or the El Cora Crocodile Farm.
Horseback riding in the jungle or along a river.
Surfing Lessons in Sayulita
PV's many great beaches particulary Conchas Chinas, Las Gemelas, or Los Muertos.
Dolphin Encounter
Iguana Watching at the Rio Cuale
Visit the Puerto Vallarta Zoo near Mismaloya.
Snorkel at Los Arcos.
CHIROPRACTOR: If you have need for a chiropractor while in PV , try Dr. Leonard Sugerman, at
Lazaro Cardenas, 490A. His phone number is 223-3845. Cell is (044) 322-142-2036. He's a great chiropractor and amazingly empathetic!
COFFEE: Best coffee is at: Cafe Oro Verde, upstairs Juarez #728, between Abasolo and J. Dominguez. Fresh roasted on site every day. Wen is passionate about making coffee and roasting very slowly for best taste. Go early–they sell out sometimes. 222-3159. Mon-Sat 8am-10pm. Many of the coffee places in town get their beans there. (per JR)
A Page in the Sun: Is also a trading bookstore for used books. South Side – 299 Olas Altas. Tel: 222-3608
Big Kahuna: Great coffee drinks, capucino, and expresso and many varieties of tea. Has freshly ground coffee and whole beans too. Patio seating on sidewalk. Corner of Basilio Badillo & Olas Altas.
Cafe Du Soleil: New in town, Constitución #287 A, between Carranza and L. Cardenas. 133-9465 7am-5pm.
Cafe San Angel: Great coffee and lots of indoor and outdoor seating. South Side – 449 Olas Altas.
Cafe Yolanda Superior: Coffee beans. Yolanda and Tom will deliver, they buy all their coffee from Ixtlahuahuey in Cabo Corrientes. 221 6991
Coffee Cup. Was voted best coffee in PV for 2007. Club de Tenis Puesta del Sol, L14A, Marina Vallarta. 221 2517
Coffee Corner. Good coffee drinks and expresso and two internet stations.
Dee's Coffee Company: Rodofo Gómez #120, 7am-10pm. 044-322-779-7603. One of the very best.
El Molaniera, Pipilia: around the corner from O'Brian's and behind the Rolling Stones leather store. Roasted on site.
Este Cafe: Central – 336 Libertad. Tel: 222-4261
Pie in the Sky: South Side – 150 Ignacio Vallarta. Tel: 222-8411. Great deserts.
Roberta's Cafe Dulce: Good selection of coffe drinks and great chocolate brownies.
COOKING CLASSES: Are offered at Barcelonas Tapas Restaurant (one of the top restaurants in PV) on most Wednesdays: November to April. The class starts at 12:00 noon and includes lunch. The cost is 250 pesos per person. Drinks and tip not included.


CROCODILES:
Cipactli Crocodile Reptilarium – You can see and learn about crocodiles at the University of Guadalajara-PV campus at Ixtapa about 15 minutes from the airport. You can also see 40 wild iguanas that live there too. At least 4 persons are required for the tour. $35 person. Kids are less. Go past the airport and turn right at the Las Juntas intersection. Go 3 kilometers to Centro Universitario de La Costa. (the blue and white "Ixtapa" bus goes to the campus.)
DAILY EVENT CALENDAR: Here's a great online guide to what's happening in Puerto Vallarta: www.pvscene.com
DANCING LESSONS
J&B Dancing Club has salsa lessons Thur., Fri, Sat. Best to check ahead. Opens at 9 pm, Francisco M. Ascensio , #2043. Gets going around 11 pm.
Felipe: can teach you Salsa at J&B Dancing Club. His number is 322 117 2591 cell and 322 333 3368. He's a good guy.
Salsavallarta.com: check for other options.
Restaurant Santa Barbara offers a variety of dance lessons Monday evenings at 8pm.
DAY PASS: Some of the beachside hotels have day pass access that can be fun for a day trip. It usually provides for use of their facilities during the day, including swimming pool, beach, and various levels of food and drinks. Prices change from time to time and with the seasons, so check ahead. Children's rates are usually less than the adult rates listedIncludes:
Hotel Playa Los Arcos, located on Los Muertos Beach has a bargain day pass rate of $15.00 per day which includes $15 in food and beverages, usage of their Beach Club, towel service, lounge chairs on the pool deck, swimming pools, jacuzzi, beach umbrellas, daily activities and restaurant service. It doesn't have the ambience of Dreams Hotel, but it's a heckuva deal for the price!
Dreams Hotel: The beach at Dreams Hotel is beautiful. The hotel charges a $76 per person per day fee to use their pool and beach facilities. including breakfast, lunch and all drinks from 9am-6pm. Kids 2-12 are half price. There is also a more expensive pass that lasts until 11pm and includes dinner.
Costa Del Sur Hotel: Not as fancy as Dreams but it is only around $30 a person including one drink and appetizer. It has a rock walled lagoon that on a nice day is great for kids to see blue tangs and other sealife. It's got small 3 inch rocks between the sand and the water, but gets sandy again once you're in the water.
DUNE BUGGY (PATHFINDER)/ATV/AMPHIBEAN RIDES: Fun if you are adventurous and don't mind getting dirty! People are sometimes disappointed that some tours spend a lot of time on public streets, rather than off road or in a river. Also some of the companies have vehicles with poor tires and brakes, making for breakdowns on some trips. Expect to end up wetter and muddier in the dune buggies than the ATV's. Recommend going in the afternoon in the dune buggies, since you end up getting so wet. For the passenger, some people like dune buggys better, because the passenger is side by side rather than in back like an ATV. Also they are faster (but muddier!) than ATVs. ATV's have gears, but no clutch, so are easier to drive if you aren't used to a clutch. The locals are not fond of these tours because of the noise and dust they create in their neighborhoods, so make your own decision.
Unique ATV Tours- said to have newer and better maintained equipment
ATV's – Jungle Trek ATV's seems to get pretty good reviews compared to some of the companies. You will be on public streets part of the time on this tour. One person $72, two person $90 at You can book through puertovallartatours.net.
Dune Buggy's- Puertovallarttours.net also books dune buggy tours that get good reviews.
Extreme Amphibean Tours. Very good reports on this one – a little different than the others. 8 wheel, 3 person vehicles (two people in front, one in back). They float in the water and have a 3 speed automatic stickshift with no clutch, so are easy to drive. They pick you up at the OXXO station and drive you 30 minutes to the Nayjal ranch where you get your vehicle (so you don't spend any time driving the amphibian on public roads). Then you drive to the river on the ranch. At the first stop, you get about 20 minutes of "play time" in the river to spin hookers or goof around with the vehicle. People seem to have fun on this. Supposedly they let you cut lose on the vehicles more than on some other tours. Cost for three people on one vehicle is $162 through puertovallartatours.net. Two people is $126.
EL FARO LIGHTHOUSE BAR: A circular cocktail lounge at the top of the Marina lighthouse. El Faro is a romantic nightspot with a fabulous view of the harbor. Live or recorded jazz plays, and conversation is manageable. Drop by at twilight for the magnificent panoramic views. Open daily from 5 pm to 2 am.
EL NOGALITO JUNGLE RESTAURANT: is located in an ecologically sensitive area beside a clear jungle stream on an exceptionally clean beautifully landscaped ranch. It is much closer to PV than other jungle restaurants. Travel to Punta Negra about 5 miles south of downtown PV. A large El Nogalito Restaurant sign on the left points up Calzada de Cedro (a dirt road) to the ranch. The Restaurant is a little over a mile from the highway. Just follow the El Nogalito signs and once you are in the little pueblo, turn left at the last sign. Follow this street half a mile or so until you get to the Restaurant parking lot. From there walk on foot up the narrow paved road to the Restaurant. The setting is a shady, relaxing terrace next to a river. Menu: lunch, beverages, and snacks. The menu varies from expensive to inexpensive. The $8 crab enchilada appetizer is meal in eatself. Several hiking routes depart from the grounds and the restaurant provides a guide (tip required) to explain the native plants, birds, and wildlife. One route starts next to the bar of the restaurant and follows along the river to a waterfall an hour away. The day we were there, you could just walk it yourself without a guide. Hours are daily from noon to 5:30 pm.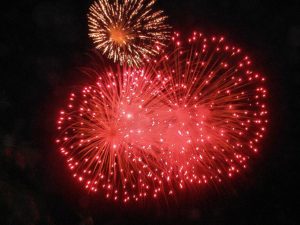 FIREWORKS: Every night at approximately 9:00 pm the Pirate Ship pulls in near the Malecon and there is a brief fireworks show. Recommend sunset dinner at Barcelona Tapas, then see the fireworks from your rooftop table at the restaurant!
FIREWORKS, PRIVATE: For approximately $500 a local fireworks company can arrange your very own fireworks show. It's brief, but is fantastic for weddings and birthdays!
FLEA MARKET: Located at the upper bridge on the North side of the Rio Cuale River at the corner of Insurgente and A.Rodriguez. A fun place to shop for Mexican souvenirs. There are also many vendor stands on the island on the Rio Cuale.
FOOD FESTIVALS:
Every year Puerto Vallarta hosts two wonderful restaurant events: the Festival Gourmet in November and the Vallarta Lifestyles Restaurant Week in May. May 15-31 in 2008. Both of these gourmet celebrations bring together top chefs, wine experts, and food enthusiasts eager to experience the quality and diversity of Puerto Vallarta's restaurant scene. The Festival Gourmet attracts around 35,000 people every year, while Restaurant Week features more than thirty restaurants known for their delicious and creative menus, bringing locals and visitors together to sample dishes from Puerto Vallarta's diverse restaurants.
During the Festival Gourmet, local restaurants invite national or international chefs to take over the kitchens of their restaurant for ten days in November. The concept is to create an exchange of ideas with other cultures and traditions and enhance the culinary background of all chefs participating. Each visiting chef prepares a menu for their host restaurant and each restaurant also plans events with live music creating an amazing atmosphere to accompany the delicious cuisine. Locals and tourists have come to expect great things from this festival and enjoy the many activities and food preparation classes that are offered. Wine and cheese classes as well as tequila tasting, chef's tables, breakfast, lunches, and dinners are just a sampling of what can be found at the Festival Gourmet.
Vallarta Lifestyles Restaurant Week is a real treat for locals and visitors as restaurants substantially discount their menus for a two week period usually from May 15:31. For seventeen days Puerto Vallarta's best restaurants offer amazing three course menus discounted by up to 50 percent.
FOOD STANDS: ON THE MALECON: Most of the Malecon footstands are now located on the Malecon extension, between the amphitheater and the Rio Cuale pedestrian bridge. It's a good place to get roasted corn.
FOOD TOURS OF TACO STANDS: If you are adventurous and want to get a feel for the "real" Puerto Vallarta take a tour with a company that will show you taco stands that are both safe and have wonderful food at incredibly low prices.

Vallarta Eats Food Tours: Vallarta Eats has a 10 am Tacos and More tour that takes you walking (about 1.5 miles) for 3-4 hours through 10-12 stops in the Zona Romantica. You will stop to eat at several great taco stands and along the way will get a chance to see tortillas made from scratch, local seafood and vegetable markets, butcher shops, the inside of a bakery, and a Mexican candy store. It's an extremely enjoyable tour and a great way to see things you would not normally be exposed to. Highly recommended! The Tacos and More tour is $55 and there is also a later tour that goes to 3 or 4 restaurants. Call the tour owner, Eric at 322 152 0224. Eric is extremely conscientious, and prechecks the stands to make sure they do the little things like changing deepfry oil each day, and having someone separate from the cook handling money. We highly recommend taking this tour before you venture out on your own.
GAMBLING: Casinos have yet to make it to Mexico, but you can wager on football, basketball, and other sports events at legalized sports books in Mexico.
Holiday Inn: There is a sports book in the Holiday Inn, located roughly in the middle of the Hotel Zone. Odds are similar to Las Vegas lines. There is a small lounge with multiple televisions if you want to watch the action.
Yak: Is in the Peninsula Mall near the Hotel Zone. It has a sport's book and video slot machines, but no gaming tables. Reported to have added video poker and craps recently. It works a little different than the US. You don't actually put money in the machines. You buy a ticket first and use it to play. It's nice inside.
Gallerias Mall: One opening up soon supposedly similar to Yak.
GAY NIGHTLIFE: Almost all of the gay night life scene—bars, discos, nightclubs, etc—are centered in the Southside Zona Romantica within short walking distance of each other. For a great list of popular spots: http://www.discoveryvallarta.com/gaybars.html
GYMS:
Gold's Gym: Plaza Las Glorias, Hotel Zone, 322 226 3070, childcare center, voted Reader's Choice best health club in PV, $10 daily rate.
Acqua Spa and Gym: Constituccion #450.
Power Fitness: machines and free weights, aerobics and spinning. Aquiles Serdan #420, 322 306 3579.
Curves: Pulpito #146, El Centro.
HAMBURGERS: in case you get a yearning for a good old fashioned hamburger.
Swedes has great burgers and fabulous onion rings.
Vitea Restarant on the Malecon has huge Angus hamburgers.
HAPPY HOURS: If you are so inclined, you can literally find 2 for one Happy Hours in PV from 12 noon to 8 pm at various places. Here's only a small sampling:
La Playita Restaurant:12-1 pm and 5-6 pm two for one drinks,great pours on cocktails. Located in Lindo Mar Condominiums on South side next to the beach. Stunning setting. One of the best.
Joe Jack's Fish Shack: Great 2 for 1 two shot mojitos from 12-5pm every day. And great fish and chips. Fun place. Has a terrace on 2nd floor.
Cuates and Cuetes:5-7 pm on Los Muertos Beach, at the foot of F. Rodriguez. Good mango margaritas, on Muertos Beach.
Burros Bar:Happy Hour 1-3 pm and 6-8 pm, on Muertos Beach, great strawberry margaritas.
Andale's Bar:2 for 1 margaritas, not on the beach, but a local favorite.
La Bodeguita Cuban Bar and Restaurant:$1 beers and margaritas all day. Across from the Malecon. Great mojitos.
Cheeky Monkey:$1 beers, $1 margaritas, great view of ocean and Malecon , on third floor across from Malecon, across from sculpture of kids climbing ladder. Go there at sunset for the pirate ship and fireworks show. Sea Monkey: is the sister restaurant of Cheeky Monkey. Located in a nice location on Muertos Beach with similar low prices and happy hour to Cheeky Monkey.
El Dorado Restaurant: 2 for 1, 6-8pm, on Muertos Beach. Palapas. Casa Isabel: 2 for 1, 5-7 pm; half price appetizer 5-7 pm Coco Tropical: Happy hour 5-6:30 pm. Has very good appetizer deals.
HIKING THE DOWNTOWN
HIKING THE RIO CUALE ISLAND AND THE NEW BRIDGE (see photo below): A nice short hike is to start at the bridge over the Rio Cuale where it enters the ocean. Drop down from the bridge (near Oscars Restaurant) and walk the shady island up to the steps that lead to Insurgentes. You will have to cross the street, then take the steps on the other side down and continue walking the island through a pretty gardened area. If you are hiking in the morning, you can stop here for a lovely riverside breakfast at Le Bistro Restaurant. When you get to the beautiful new bridge going up the hill on the left side, take it up the hill. At the top of the bridge (the Gringo Gulch area) you will have a great view of the surrounding area. Make a left at the top of the bridge, and you can follow the street all the way back to the Malecon.
HIKING LAGUNA DE QUELELE – A rustic hike around Laguna de Quelele in Nuevo Vallarta with birdwatching.
HIKING FROM LOS MUERTOS BEACH TO CONCHAS CHINAS BEACH: If you go south from Los Muertos Beach you will climb over a small hill and then you can follow along the beach all the way to the beautiful beach at Conchas Chinas. Walk 200 yards more, up the stairs and along the ocean and you end up at La Playita Restaurant, a great place for food and drinks! If you want to see some interesting art, start you hike at the northern end of the Malecon, then go on to Muertos.
HIKING NEAR PASO ANCHO: Take a cab or the Ruta 4 bus from V. Carranza and Aguacate to the village of Paso Ancho and walk to, and up the river to the right. If you reach the sign that says Mascota/Talpa, follow it. It's a dirt road along the river with a lot of wildlife. It is very pretty. Follow the horse trails, take a refreshing dip. There are a few nice spots on your way back for a cold drink. A nice place to stop on your way back is the Cuale Paraiso Restaurant under the bridge and right on a beautiful spot on the water.
HIKING RIO MASCOTA: Take the Las Palmas bus to the Rio Mascota/La Desembocada. Walk up the river about an hour to the natural thermal hot springs.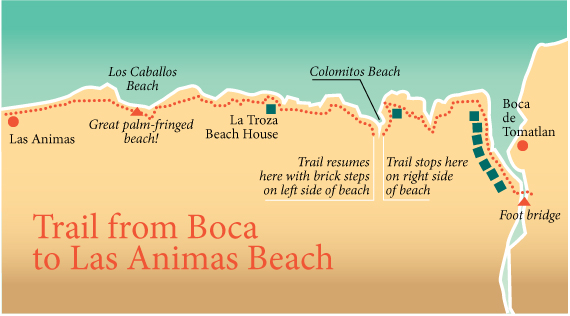 Hiking to Colomitos Beach
Go to Boca de Tomatlan (approximately 10 miles south of PV) and hike to Colomitos Beach through jungle rivers and across wooden slat and rope suspension bridges. Good snorkeling at Colomitos Beach. The hike takes about 45 minutes and you will see assorted tropical birds, butterflies, iguanas, and other (small!) animals along the way and interesting native plants and trees. The trail is fairly well marked once you are past Boca. It's a little confusing once you are still in Boca because its mixed in with a lot of housing paths. Just keep walking toward the water and you'll find your way. The trail to Colomitos is almost always within view of the water. The dogs at a couple of houses along the way don't seem to be a problem. If you are going during the hot season, leave early, because there are a few pretty good climbs along the way. See article Hiking Boca to Las Animas.
HIKING TO LOS CABALLOS BEACH: Los Caballos Beach is a beautiful secluded beach. You can start at Boca and hike past Colomitos Beach until your reach Los Caballos. You can also reach it the easy way by taking a water taxi from Boca de Tomatlan to Animas Beach, then hiking along the beach one half mile back in the direction of Vallarta. A gorgeous palm fringed beach. See article Hiking Boca to Las Animas.
HIKING TO LAS ANIMAS BEACH: The hike from Boca to Las Animas takes about two hours. After passing Colomitos Beach, you can continue on to Animas Beach. You will pass through some homes built right across the trail, but the owners are nice and do not make you feel like you are trespassing. For pictures of the trail: hila.webcentre.ca/mexico/walk/ If you want to have a guide take you the first time you try any of these trails call Arturo at 044 322-205-3227. He charges $35 to guide you from Boca to Los Animas. Includes bus fare and water taxi fare back. If you encounter dogs along the way, just act like you are picking up a rock. The dogs are used to people throwing rocks at them to scare them off, and will run away. See article Hiking Boca to Las Animas.
HOME TOURS BY THE INTERNATIONAL FRIENDSHIP CLUB: Tel: 222-5466. Stroll thru some of the most beautiful villas in Puerto Vallarta and experience a Vallarta that is rarely seen. This is a MUST do! Call to double check times and locations.
Southshore Home Tour: Every Wednesday (homes only) and Thursday (Thursday includes the Botanical Gardens) beginning November 15, 2009 thru April 27, 2010. Ticket sales begin at 9:00 a.m. and bus departs at 10:35 a.m. from Andeles on The Bay, 513 Olas Atlas. Tour is approximately 2 1/2 hours. Cost is $35 and proceeds go to Puerto Vallarta Charities.
HORSEBACK RIDING: The hilly, nearby jungle and long stretches of shoreline have made horseback riding a favorite activity. A variety of tours are available featuring visits to mango orchards, cattle ranches and farmland, small rural villages, and a river where clients can swim. On Sundays, horseback rides include a trip to a typical Mexican rodeo. Longer trips, up to five days on horseback are offered for small groups into the Sierra Madre mountains and with visits to sites including the old mining town of San Sebastian del Oeste. Go in the morning if you want it a little cooler. There are several tour providers and ranches to choose from, each with different types of packages. If you go on a trip through the jungle in the rainy season, take a long sleeve shirt, pants, and bug spray to protect yourself from the bugs.
Rancho Capomo: Bilingual guide and daily rides from 9am to 3pm for 6 hours. $70 225-0450. Has received good reports.
Rancho El Charro : Small groups, for 3 and 5 hours; bilingual guides, horses for all levels, children welcome. $50 tropical forest ride for three hours, up to $90 for an 8 hour adventure ride (breakfast and lunch included). The horses are in good condition, you go in smaller groups with this one, spend less wasted time traveling there, and the people that handle it are outstanding. www.ranchoelcharro.com 224-0114. email Pamela at the website. Possibly the best operator.
Rancho Manolo: From Mismaloya to El Eden, includes visits to sites of "Predator" and "Buccaneer" movies. 228-0018.
Rancho Ojo de Agua: Since 1983, with 3:5 hour rides from the ranch to a reserve in the Sierra Madre mountains. 224-0607, 224-8240. Have received good reports.
Quimixto:If you are on one of Javy's boat trips (see Water activities) he can drop you off here and you can take a $12 horse ride or walk about an hour round trip past a little pueblo to a gorgeous waterfall and swimming pool.
Riders Ranch: In Paso Ancho. 2 to 3 hour rides, with small groups. Just 15 minutes from PV. Marilyn at 044 322 137 3671 sells tours to it.
Private Trip: If you want a private trip, email jr@vallartainfo.com for the contact info for Fernando who is located in Paso Ancho, up the Rio Cuale. Local horse experts say a private trip can be better because you are not in a big group, and the horses are often in better condition, since they aren't kept as busy. Rates are around $15 and hour.
Places you can sometimes find horseriding on the beach: on the beach in Bucerias, in front of the Buenaventura Hotel, in front of the Crown Paradise Hotel. Riding on the beach isn't supposed to be legal, but seems to go on.
ICE CREAM AND GELATO:
Xocodiva, at 168 Basillo Badillo in the Zona Romantica has some of the richest ice cream in PV. They also have a Belgian chocolate store next door. Try their salted caramel ice cream, or their cherry filled or peanut butter filled frozen chocolate banana with nuts!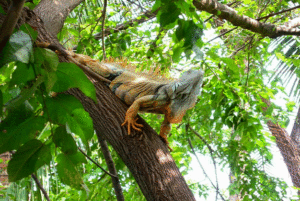 IGUANAS: If you want to see iguanas, go south on the street next to the Malecon until you come to the Cuale River bridge. On the left side of the bridge, there is usually a bunch of them. You can also see them in the trees along the Rio Cuale and from the balcony of the Café Roma overlooking the river while enjoying a beer and some great thin crust pizza! There are some large males there, and you can often see some great territorial displays!
KARAOKE:
La Regadera:Morelos #666, in Centro a block from the Malecon, best time to go is Fri/Sat, you want to get there by 9:30 to get a good table. Karaoke every night with 7000 songs in English and Spanish. Good place.
Karaoke Night at the Factory Disco Club at the Crown Paradise Hotel
Café Roma: Encino 287, Old Town, Call for times. 322 222 7378
LAUNDRY SERVICE: Lavenderia. Inexpensive wash and press service at 289 Francisco Madero between Constitucion and Y. Vallarta. Careful: Mexican soaps can sometime fade bright colors.
LOS MUERTOS BEACH AREA: The cities most active beach area with many bars and restaurants to sit in the sand with a drink and meal!
LOS MUERTOS PIER: The new pier off Olas Altas that was designed in the form of a giant sail is worth a stroll , particularly around sunset. It's a fabulous structure and you can get great views from the end of the pier looking back at Muertos Beach that you can't see any other way. Pretty spectacular when lit up at night.
MALECON: The city's main ocean walk which features whimsical bronze and sand sculptures along its palm-lined path and great people watching. One of the more enjoyable attractions in Puerto Vallarta, here you'll experience the beautiful view of the emerald colored bay. Stroll on the beachfront side and you'll enjoy a view of the beach and sea plus an unobstructed view of the breathtaking Vallarta sunsets. Walk on the other side and you'll enjoy the shops, bars and restaurants along the Malecón. Extends some 10 blocks from Hotel Rosita to the Zócalo (main square). The evening brings out entertainment including traditional Aztec acrobatic performances, concerts on the sidewalks, clown shows, folkloric dancers, and "human statues", particularly on Saturday and Sunday nights.
MARIACHI: Mariachi Loco, on the corner of L. Cardenas and I. Vallarta on the south side, has some of the most authentic Mariachi music around. La Chata on the Malecon is a great place to hear mariachi every night. They start playing around 9 pm. The mariachi band is always great, and in combination with their menu and upstairs location across from the bay, makes for a memorable evening of Mexican food and music. Nice sunset view. They play for tips for the first 45 minutes, then after that do requests at your table for $20 a song.
MEXICAN FIESTAS: Traditional Mexican fiestas are offered on a regular basis by two of the major local hotels, the Hotel Krystal, Tel: 224:0202 and the Sheraton Bougainvilla, Tel: 223-0404.
MOVIE THEATERS: For movie listings, go to: www.vallartaonline.com/cinema/. You might want a jacket:they keep the theaters cold! Most of the movies are in English, with the exception that many children's movies are dubbed in Spanish because young Mexican children can't read subtitles.
Cinemark Theater: 224 8927, Ave. De Los Tules, #178 Fracc. Los Tules, Plaza Caracol, new multiscreen theater. A good theater, and close to everything, on 2nd floor of new section of mall.
Cinepolis Theater: 293 6763, Av. Franciso Villa, #1642:A, Ex:Haciendas del Pitillal, hi:tech 14 screen movie theater, probably the best PV theater, movies start around 10:00am, great way to get out of the heat.
Cine Versalles: 225 8766, Av. Franciso Villa, #799 Versalles.
Cine Bahia: 222 1717, Insurgentes 63, old theater located in El Centro.
MUSIC AND ENTERTAINMENT IN OLDTOWN (ZONA ROMANTICA): This changes all the time so call ahead to check.
Langostino's and Cuates y Cuetes take turns having live music in the evening, and they start at Happy Hour. They are next to each other on the north side of the pier. Good happy hour places….especially Langostino's.
Nacho Daddy's has a variety of live music every night. They were having a little problem with a hotel complaining so it could be a little quiet there….just depends on if they have gotten it straightened out. It's on Basilio Badillo not far from Olas Atlas.
Andales….not live music….but reel to reel and very very lively usually. Lots of non-stop dancing. This is the place people vary widely on whether they like it. It can be a lot of fun, you have to be in the right mood. On Olas Atlas across from Playa Los Arcos Hotel.
Blue Shrimp, Coco Tropical , Playa Los Arcos Hotel on Los Muertos beach all have music too.
La Palapa as well, the most laid back….harp, jazz etc.
Que Pasa on Aquiles Serdan…not the one on Olas Atlas. Like Nacho Daddy's they have a variety. Check their website for the schedule.
El Rio BBQ is in Paso Ancho and has performers at times like Bob and Gilberto, a great two man rock band who sometimes play there on Fridays from 4-6pm.
All listed except for LaPalapa are R & R 50's – 90's .
Los Bambino's are popular in PV….they are PV's darlings…..4 young men all brother's, and if you're lucky they will show up at your table anywhere on Olas Atlas and sing for you. They good hard working guys. They play shows too.
Mariachi's roam around all over PV in the evening….so you never know when you'll run into them. Some are big groups and some small.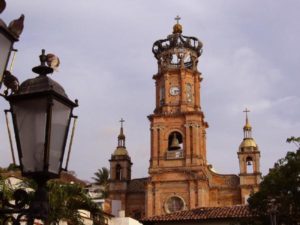 OUR LADY OF GUADALUPE CHURCH: One of the most revered destinations for Catholics all over the world. The Church, called Iglesia de Nuestra Señora de Guadalupe, is on Calle Hidalgo, one block from the Zócalo (the main square). An architectural masterpiece that more than any other symbol represents Puerto Vallarta. A beautiful crown tops the tower of the architectural masterpiece. The ornate interior includes handcarved columns, stained glass windows, and other fine detailing. This basilica is the most photographed church in Mexico. Open 7:30 am- 8:00 pm. English Mass every Sunday at 10:00 am. Open 7:30 am- 8:00 pm. If you are in the vicinity of the Church, try Pietro's (see Pizza) for good inexpensive pizza or Fondant's (see Bakeries) for inexpensive coffee, pastries, and grilled foccachio sandwhiches.
PIZZA: So you need your Pizza fix!
Café Roma: Encino #287, next to the Rio Cuale and the flea market. Absolutely awesome thin crust pizza overlooking the river, coldest beer in town, and great prices on mohitos, chichis, etc. 322 222 7378. Big screen TV. Iguanas in the trees by the side of the river! And they'll let you call home for free! A FUN hangout spot!
La Piazetta: corner of Olas Altas and R. Gomez, very good thin crust, pricier than it used to be, but good pizza.
Espresso: I.Vallarta #279 at Cardenas. Great thin crust pizza from wood ovens, Italian owner. Delivers.
Pietro: on the right hand side of Guadalupe Church, Zaragosa #245. Good wood oven baked thin crust pizza and lasagna, very good prices.
RESTAURANT GUIDE: Puerto Vallarta Restaurant Guide – Beck's Best by Gary Beck. You can buy it or download it ($15-$20) at lulu.com Covers the entire Banderas Bay from Mismaloya to San Pancho. Has current info on over 360 restaurants including everything from taco shops to high level dining experiences. Has addresses, phone numbers, hours, and menu samples. This is the best around and a great way to get a quick handle on Puerto Vallarta's great restaurants. **Also look at our own restaurant guide that is at Villa Encantada. It rates about 40 of the best restaurants.
RODEO: Charreada, Mexican rodeo, is usually held on Sundays in PV and can be very interesting if you enjoy riding and roping.
RUNNING: Best place to go for a run is the downtown boardwalk (Malecon), the stadium sports park, and the Marina boardwalk, or one of the many beaches.

SAND SCUPTURES (pictured): Many times of the year there are incredible sand sculptures next to the Malecon. Often you can watch the artists actually working on them.
SAN BLAS/LA TOVARA JUNGLE BOAT RIDE: This is an all day trip to an estuary ecosystem loaded with wildlife, mangrove forests, and native plants. If you go, don't miss a trip to La Tovara, a restaurant accessible only by boat at the tail end of a jungle river ride. It's about $40 plus tip for up to 4 people, and about 3 hours in total, including a stop at a crocodile farm and for lunch at La Tovara. You'll see plenty of wildlife, including crocs, and great scenery as well. The docks are at a brightly colored building on the east side of the road, just north of Mantenchen. There are several available boats and tour guides, although you might have to reserve ahead in high season. San Blas is a three hour bus ride from PV and a 2.5 hour drive. To enjoy it, it's easiest to stay there overnight. It has a reputation of being one of the best bird watching sites in Mexico. Also there is a 16th century fort and ruins to see in San Blas. TAKE LOTS OF INSECT REPELLENT – San Blas has its fair share. If you want to go on a tour, vallartaonline.com has an Eco-San Blas Safari for $99 for adults and $49 for children. Banderas Bay Tours also has a San Blas tour.
SAN SEBASTIAN DAY TRIP: 40 mile, 1.5 hour incredibly green drive up the Sierra Madre from PV on an improved road, but can be difficult during the summer rainy season, when the road washes out frequently. San Sebastian goes back to the late 1700's. An old silver mining town at 4900 foot elevation, it had 30,000 workers at the peak of the silver boom. It retains all the charm of a village locked in time with 600 residents, and old church, a coffee plantation, one bar that has great samples of raiscilla, and an underground tunnel system. You can drive 30 minutes more and get to Mascota, a livelier town that San Sebastian. Easy to drive there: www.vallartainfo.com/outerlimits.
SHOPPING: Everything from high fashion jewelry to Mexican handicrafts is available at a wide variety of shops. Among the most interesting shops are:
Galleria June Rosen Lopez:Handmade original jewelry. Beautiful designs in siliver and gold, not bargain
basement prices, but very good prices for excellent quality. Open 12-6pm. 044-322-779-6491,
or US landline 1 646 291 6852. Francisca Rodriguez #200, 222 5049
Serafina: Basilio Badillo 252-B, Emiliano Zapata. 223-1925
Querubines: Juarez 510A at Corner of Galeana 223-1727
Puerco Azul: Constitución 325 Just off Basilio Badillo's "restaurant row", 222-8647
Huaraches Fabiola: Leather goods and custom made huaraches, just south of the bridge on I. Vallarta.
Lucy's CuCu Cabana – Unique and colorful folk art. Basillio Badillo #295.
Rolling Stone Leather Store – Boots and leather goods. Next to Carlos Obrien's on the Malecon
La Tienda: Rodolfo Gómez 122, Near Los Muertos Beach 222-1535
Safari: Olas Altas 224, Local 5, 223-2660
Azul Siempre Azul: Ignacio L. Vallarta 228, Across from Club Roxy, 223-0060
Banderas Bay Trading Company: Lázaro Cárdenas 263, Emiliano Zapata. 223-4352
Colin Hnos. Carniceria:has American style thick steaks, #476 Venustiano Carranza 222-3765
Sam's Club :ask the butcher behind the window to have thick steaks cut—their marbled steaks are very good. Good selection of fruits, vegetables, wines, etc.
Soriannas at the Marina: Great selection of fruits, vegetables, wines, etc. Similar to a US supermarket. One of the best places to shop for food. One of the best selection of imported food items.
Costco:Fluvial Vallarta #134
Fruiteria Zayra:Mercado E. Zapata, fresh fruits and meat.
Leona 226: #226 Leona Vicario. 222-3710. Reasonably priced art jewelry. Located close to many art galleries.
Robertos Jewely:Tiny jewelry store with honest rep and many loyal fans. Specializes in silver. Two stores down from Burro's Bar on the ocean side of the Lazaro Cardenas Park. 322) 222-5920.
Eddy's Factory:F.Rodriguez #133. Jewelry, silver and silver w/gem stones. Finely crafted and beautiful pieces (pendants, rings, etc).
Agave Grill Store:(House of Tequila) :fine tequila and wine selection
Art Supplies: Mexico Magico, at Juarez 534, 222 5776 and Pro:arte, Mexico 1197A.
Lavenderia:Laundry Service. Inexpensive wash and press service at 289 Francisco Madero between Constitucion and Y. Vallarta. Carefull:Mexican soaps can sometime fade bright colors.
Mundo de Azulejos (World of Tiles), Talavera tile, pottery. V. Carranza #374.
Fresh Coconuts: $1.50 a coconut and they cut it up: includes both the juice and the meat. Coconut shop a block from the Rio Cuale bridge. Aquiles Serdan #255. Coconut juice is fantastic for counteracting dehydration!
Farmacia Guadalajara:Pharmacy with good selection and prices. Follow the highway back into town, about two blocks past Pemex, on Insurgentes.
Artisan's Bakery: Some of the best bread in town. 875 Morelos, 322 222 4979.
Mondo de Crista: blown glass, on Basillo Badillo and insurgentes
Tlaquepaque: blown glass, north of Parque Hidalgo
SPORTS BARS:
Torito Sports Bar and Restaurant: Multiple satellites, 15 screens, can get almost any game you want. 2 for 1 ribs from 2:4 pm each day. Breezy upstairs open patio. South Side , 290 Ignacio Vallarta , 222:3784.
Steve's Sports Bar : Basilio Badillo #286 Multiple satellites, specializes in NASCAR and NHL, good "home style" food.
Que?Pasa : Aquiles Serdan #625, multiple satellites, alternates live music, poker nights, pool and dart tournaments, local hangout.
Cafe Roma : Encino #287 : Just north of the river. Multiple satellites.
Captain Ron's:Moved within Asaderos Grill. Basillio Badillo #223.
Marriott's Champions Sports Bar. At the Marriott Casa Magna resort in Nuevo Vallarta. Lots of TVs and a big screen and a good sports bar menu.
No Name Café: a true sports bar ambiance with good Mexican and American dishes, 40 televisions and 10 satellites, and an amazing view. Happy hour until 6 pm daily. Drinks have gotten pricey lately. Morelos #460.
La Escondida: laid back "neighborhood" type joint, on Jacarandas #210 just off Madero. Six TV's with 3 different cable and satellite fees and 13 peso beers. Good source of insider tips on where to eat, what to see, etc. from local gringos who hang out there.
Holiday Inn: small lounge with multiple TVs, see Gambling.
Casa Blakes: located in the Plaza Las Glorias in the North Hotel Zone. 5 TV's, Canadian owners, beer specials for all Canadian hockey games, happy hour.
SUNDAY BRUNCH:
La Playita Restaurant at Lindo Mar Condominiums has a very good brunch for the price overlooking the ocean for only $10 on Sundays. It gets very crowded after 9:30 am.
Andrea's at Vellas Vallarta is said to have a breakfast buffett with good selection for around $20.
Sheraton Hotel: If you want an even fancier brunch try this one. They have a tremendous selection with all sorts of desserts and a chocolate fountain. Champagne and good mariachi band too. $27 person. Gary Beck recommends this one. Has a beautiful view of the bay.
El Tigre golf course has an excellent Sunday brunch.
SUNSETS: Sunsets from various beaches, the Malecon, high up in a hillside restaurant, or from Villa Encantada. There is nothing quite like a Puerto Vallarta sunset! See Viewspots. Click here for Sunset Pictures
TACO STANDS IN ZONA ROMANTICA: Some of the taco stands in the Zona Romantica offer fantastic food at unbelievably low prices. The key is know which ones have both good health standards and good food. Most of them offer great meat or seafood tacos for 10 to 20 pesos. Below is a list of recommended ones:
Marismas: One of the best taco stands. Tacos capiodos, batter fried shrimp or fish in a softshell taco, served with five different salsas-delicious. (directly across from El Brujo Restaurant on Naranja near the corner of V. Carranza.
Cisneros: Once of the best taco stands. Has seafood chile rellenos in a taco and great shrimp brochette tacos. The stand is open until about 5pm, then you can get their food inside their restaurant located next to the taco stand. On Aguacate between Las Cardenas and V. Carranza)
Tako Panchos: Not really a taco stand, more of a very tiny eatery. Great pork tacos scraped off a giro type vertical rotisserie
Churro Stand: If you are at Cisneros above, stop at the churro stand located half a block away right at the side of the Church. Great freshly made churros for a peso apiece.
Langosta Loca: Eating fish on a stick from venders on the beach can be a tricky proposition. At the stand at Langosta Loca at the beach on the Malecon and Fco Madero you can get it freshly made.
Birria Ricky: Has beef taco dorado. Very crunchy and tasty! Located between Aguacate and Insurgentes on V. Carranza.
El Moreno: Has quesadillas with adobada pork, beans, onions, guacamole, and salsa. Located at the corner of Constuccion and Fco Madero.
Tortillera (tortilla factory) Located on Naranjo
Coconut Stand (Juan) . Corner of Basillo Badillo and Jacarandas
Carnitas Stand with pork tacos. Corner of Aguacate and V. Carranza.
Colin. Bakery and butcher. Located on Laz. Cardenas between Aguacate and Jacarandas.
El Colera: Marlin ceviche. Located on Laz. Cardenas between Naranjo and Chimicarin.
TAPAS: For tapas lovers try one of the following:
Barcelona Tapas:at Matamoras, a great tapas restaurant with a view of the ocean and downtown from seven stories up, go around 9pm and watch the daily fireworks from the pirate ship.
La Pena Andaluza: great inexpensive tapas restaurant overlooking the Rio Cuale above Santander bank with afternoon specials.
Esquina de Los Caprichos: inexpensive tiny tapas restaurant at Mirimar and Iturbide with great Spanish tapas
TEHUAMIXTLE: Tehua is located on the far southern part of the bay and is a good day trip. It is a very laid back area with great, huge oysters. You will travel rural roads until you get to a mostly deserted, pretty beach with a small fishing village in a cove. There are a couple of small restaurants there. Don't expect anything more than a pleasant day trip. To get there follow the highway south past Boca and continue on to Tuito. From Tuito, you bear left initially, then follow your nose on a dirt road. If you bear right in Tuito, you'll end up in Chimo. The road to Tehua goes through ranching country, then passes through a city called Llano Grande, continues onto Maito, and then to the ocean and Tehua. After Maito, you need to turn left.
TEQUILA: If you're going to be in Mexico, you need to know at least a little about tequila!
–First of all to get the real tequila experience don't get anything that doesn't say 100% agave. Tequilas that don't say this have fillers like corn syrup and grain alcohol (which cause the hangover the next day!)
–Reposado means the tequila was aged minimally for 2 months up to a year–good for margaritas
–Anejo means the tequila was heavily aged, for somewhere between 1 year but less than 3 years. Good for sipping!
–Ultra anejos are the most expensive tequilas and are aged even longer, for up to 5 years.
Generally speaking, the longer the tequila is aged, the darker in color (as it picks up more color from the wooden barrels) and the smoother the taste, the higher the cost.
TEQUILA MAKING: Leyva Distillery: This small family run business is located just a 15 minute drive north from downtown Vallarta. Tequila produced with traditional hands on techniques passed down through the generations so only 60 liters of 100% agave azul tequila is produced each day. Your host, Don Marco will walk you through each step of this tried and true process. Located in Mezcales, just before Bucerias, Nayarit at #197 Puesta de Sol. The hours are Mon. – Sat. 9:00am – 5:00 pm and Sundays 9:00 am – 1:00 pm. The tour takes one hour. The tour and samples are free. This is really just a showroom showing the tequila making process. The real tequila distilleries are in the town of Tequila four hours away from PV.
TEQUILA TASTING:
La Casa Del Tequila. $25 to sample three tequilas from an extraordinary tequila collection of over 250 types (one of the largest in the city). Located in an old romantic hacienda. Morelos #589 – one block off the Malecon 222:2000.
Don Crispin Tour:Sells 100% pure aguave tequila and a variety of flavored tequilas. South of Puerto Vallarta in the town of Las Juntas y Los Veranos. 322 223 6002. The only operating distillery in Puerto Vallarta area. Has a brief tour of their small hand batch distillery and a good tequila tasting. Primarily makes raiscilla. Can be reached by the El Tuito bus from downtown PV (corner of Aguacate and V. Carranza) in about 30 minutes. You can stop at Chico's Paradise nearby for lunch.
TEQUILA THE TOWN: is located approximately a 4 hour drive from Puerto Vallarta. This is the home of Tequila. Jose Cuervo, Sauza, and Heredurra Distillerias have tours of their fields and distillery operations. If you want to see a real tequila factory, this is where you need to go. If you don't want to drive, Scott's Tours in Bucerias (045 322 120 1077 cell) has two tours available to Tequila: Banderas Bay Tours for $99, and Transportes de Bahia for $89. This is a quite interesting trip if you are willing to make the drive.
THEATER: Santa Barbara Restaurant and Theater. 351 Olas Altas St., 223-2048. You can go there for either dinner and a show or just the show alone. Get tickets ahead of time—it's popular.
TOUR AGENTS:
Vallartainfo.com: JR runs. He is a great expert on everything local and has good tour prices.
TROLLEY: This open air trolley will take you on a short tour of the city. It leaves from downtown in front of McDonald's every 30 minutes between 10:00 am and 10:00 pm. The cost is $6.00 usd per person.
TURTLES: During the summer months the adult turtles return to our Vallarta shores to lay their eggs. The nests are protected by a fence and guarded until the hatchlings emerge. Many hotels, who have protected nesting sites on their beaches, will allow guests to help the new hatchlings get from the nurseries to the open ocean; Rosita Hotel, Sheraton, Fiesta Americana, Westin Regina, Marriot
Casa Magna, Sun Terra Vallarta Torre, Presidente Intercontinental and Dreams Hotel. Inquire at the reception desk of the hotel nearest you about estimated hatching schedules and if you can participate in the release of the hatchlings.
VEGETARIAN RESTAURANT: Planeta Vegetariano, 222 3073, located 1/2 block from the Church at 270 Iburtide, is the best vegetarian restaurant in PV. In a simple setting, but great vegetarian food. Serves buffet style for breakfast, lunch, and dinner. Breakfast is simpler, but the lunch and dinner buffets are extensive and are incredible values. Eg. The lunch buffet, with juice, coffee, and tea included as well as desert runs about $7 US. They have takeout. If you are driving, the easiest way is to take Insurgentes north, cross the Rio Cuale Bridge, then take a right at Matamorus, and drive up to Iturbide. Walk down the steps to the restaurant (much easier to park than going the other way).
VIEWSPOTS: Great places to have a drink or meal and enjoy great views of Puerto Vallarta or a sunset!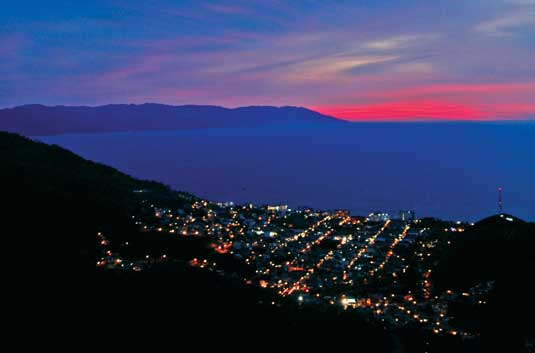 La Playita Restaurant: On the ocean at Lindo Mar Condos. Great happy hours twice a day. Best restaurant ocean setting in Puerto Vallarta, but many don't know about it.
Casa Isabel Restaurant: Great place on the southside for sunset drinks and a great view of the ocean and downtown from up on the hill.
Barcelona Tapas Restaurant: On the rooftop. See fireworks every night around 9:00pm.
Vista Grill: On the hill overlooking the City. Romantic upscale dining. Pricey but very romantic!
Carmelitas Restaurant(pictured):Highest point in the city and arguably the best view in all of Vallarta. Recommend drinks and appetizers only. (although some like the food too). Service and food are up and down. Call ahead (322 303 2104) and make reservations and you won't be charged the $10 per person entrance fee (you receive a credit for it against your bill if you do end up paying the entrance fee). Their drink prices are high and they don't put drink prices on the menu, so ask when you order. They push their $13 margarita if you ask, but start out with their $9 margarita-it's big enough!
Le Kliff: World's largest palapa built on the side of a cliff over the ocean South of PV. Stunning view. Recommend drinks and appetizers only.
La Palapa or Dacquiri Dicks A little touristy and pricey, but high quality and right on the beach at Los Muertos.
Palomar de Gonzalez Restaurant: A patio restaurant high on the hill overlooking the City.
El Faro Lighthouse Bar at the Marina: Drinks only, but a great view of the Marina and sunset.
El Nido: Rooftop terrace lounge above Chez Elena Restaurant at Matamoros #525. Fairly plain furnishings, but a wonderfull sunset view.
El Panorama: Great rooftop view many stories up. Food and service vary sometimes.
El Set: Fabulous view. Food and service have slipped.
Hacienda San Angel: Great view of city from restaurant (reservations needed.) Try breakfast. Garza Blue Restaurant: Pricey but a good spot for a romantic dinner. Built almost on the ocean with interesting architecture and interior design. The ocean in this area is relatively flat without waves or rocks so isn't quite as scenic as some areas like Playita. Palapa Restaurant: South of town in a condo near Gemelas Beach (not La Palapa on Muertos) Fabulous oceanside view.
Various Other Los Muertos Beach Restaurants: Great for a drink at sunset.
VOLADORES: The Voladores are a Mexican tradition::they dance in order to please the Gods! A group of men perform suspended upside down while attached to a rope hanging from the top of a 60 foot pole. They rotate around the pole while playing musical instruments. Performances of the Papantla Flyers take place every Saturday and Sunday night at 6, 6:30, 8, 8:30, 9, and 10pm, on the Malecon adjacent to the "Boy on a Seahorse" statue. Some of the bars and restaurants, like No Name Bar, have great views of the performance from across the street on their second and third floors.
WALKING TOUR: good way to see the sculptures along the Malecon is by joining the free walking tour on Tuesday mornings at 9:30 am. Meet at the north end of Malecon near Rosita Hotel.
WEDDING PLANNERS: Kristen Crawford at The Dazzling Details is a great Puerto Vallarta based wedding planner. www.thedazzling details.com, weddings@thedazzlingdetails.com
WEATHER: See http://weather.romamexico.com/
WIFI: Free at Café Roma and Que Pasa if you buy anything.
WINE TASTING: Constantini Wine Bar at Café de Artistes. Fine wines, desert menu, international cocktails and appetizers, 6:11:30 pm, G.Sanchez 740. Free wine tasting every Thursday at 6 pm.
YOGA:
Davannayoga (www.davannayoga.com) is a yoga studio that is a Puerto Vallarta favorite. Located on the corner of Matamoros and Corona in the heart of Old Town. Free water. Free towels, and free fruit is available. They have children's and pre-natal classes and they also offer children's yoga day-camp during school holidays. These camps are in town so you can drop the kids for some fun, go out exploring on your own, and return to happy and relaxed children.
Yoga Vallarta (www.yogavallarta.com) is another popular studio, located on Basilio Badillo in Old Town.
Both studios have teachers that speak English. Mats can be borrowed in both places. Choose your style and the hour you want to practice. The cost of classes is about $10 and both studios offer discount cards if you want to take more than one class.
ZOCALO: The Zocalo, or Central Plaza in Puerto Vallarta is a hub of downtown activity, overlooked by the landmark Our Lady of Guadalupe Church next door. At different times you will see art events, and local performers and bands there. You can get coffee or ice cream there and just hang out for a while on the benches absorbing the local atmosphere. Its located right across from the Malecon. Sunday nights at 7 pm there is usually public dancing in the square.
ZOO: Zoologica de Vallarta . Just south of town in Mismaloya. View 400 animals from 70 species at a cost of $6 for adults and $3 for children. Open 10:00 am to 6:00 pm every day. White tigers, jaguars, pumas, coyotes, ocelots, tiacuaches , birds, crocodiles, and iguanas. Adults will find it small compared to U.S standards, but it's in a beautiful jungle setting and kids can feed many of the animals and get up closer to them than at an American zoo. Call Antonio or Martin Castaneda at 322 222 6622 or email elpalaciodoro@aol.com. Km.2, Rio Arriba Mismaloya near the Mismaloya Hotel. Cool off with a swim or a drink at Chinos Paradise afterwards just up the road on the river.