Puerto Vallarta Nightlife
Andale's South Side – Olas Altas 425. Tel: 222-1054.
A local hang out with great margaritas. Fun oldies but goodies dancing music! You can ride a donkey right through the bar! A DJ plays 60's to 90's rock. A little older crowd from 30-65, but very lively and in general a fun bar!  Open daily from 8:00 AM to 3:00 PM.
Bebo Tero Centro-Malecon- Paseo Diaz Ordaz, #533, phone: 113 0099.
Good live rock and roll with an excellent view of the Malecon and Bay from the second level. A hangout for the 20-30 year old crowd. Music starts around 10:30 pm. Open daily 6pm-3:30am.
Collage Marina – Proa Street, Local 1, interior. Tel: 221-0505
One of the most entertaining clubs in PV. Vallarta's largest entertainment center, with a bowling alley, candlelit tables, snack bar, video games, Vallarta's biggest disco/bar (3 bars) and stage, and three huge projections screens. It serves 2,500 clients and 28,000 beers and cocktails on some nights. A spring break craziness type of place. Foam party one night a week. The disco features pop, rock, salsa and new wave. Tuesday's and Fridays are open bar at a fixed price. The night starts out with entertainment. Great foam parties (foam party attire is board shorts and T shirts for guys and bathing suit attire for girls – skirts, shorts, tanks, and bikinis. sandals) and Mardi Gras parties. Normal dress code is casual. Sort of a Cancun type bar. Gets wild at times. The Girls Gone Wild destination when they are in town. Daily, 9pm-4am.
Cuates y Cuetes South Side- 163 Francisca Rodríguez at pier Los Muertos. Tel: 223-2724
A restaurant/bar on Los Muertos beach which often has good live jazz/salsa/light rock/reggae music in the evenings from sunset until around 11pm. Popular for happy hour and sunset drinks. Daily, 8am-11:30pm
De Santos -Peninsula Mall  Tel: 223-3052
Moved from their downtown location to the Peninsula Mall in the north Hotel Zone.  Downstairs offers al fresco dining and indoor seating with a beautiful romantic and cozy atmosphere.  Upstairs, the rooftoop bar becomes the hottest place to see and be seen.  Often has live music or special DJ's.  Open Daily: Restaurant 6PM to 2AM.  Bar/Terraza from 9PM to 4AM.
El Faro Marina – 245 Paseo de la Marina. Tel: 221-0541
Lighthouse cocktail lounge with guitar music and panoramic views of the marina of Puerto Vallarta from the 110 foot tower. Daily, 5pm-2am
El Torito South Side – 290 Ignacio Vallarta. Tel: 222-3784.
Sports bar and restaurant with seven satellites and twenty-five televisions.  Perfect place to watch sports and now has a Sports Book inside for your betting pleasure.  Known in town for their BBQ ribs and chicken wings. Has popular ladies nights, and 2 x 1 ribs in the afternoon from 2PM to 4PM.  Open daily, 11am-4am.
Hilo Central – Malecon-588 Paseo Diaz Ordaz. Tel: 222-2230
One of Vallarta's most popular nightclubs with a great sound system, hip, hot, and cool decor.  Top 40, dance, rap.  Popular. Tends to be a younger crowd. Daily, 4PM to 4AM Mon-Fri and open until 6AM Sat & Sun.
J&B Salsa Club -Hotel Zone-Ave. Francisco Medina Ascencio, Km 2.5. Tel: 224-4616
A Vallarta institution for Latin based music, from salsa and merengue to samba and flamenco. Often with live bands on the weekends. Fodor's guide calls it "the best club in town for dancing to live salsa." Offers dance lessons a few nights a week before the band plays.
La Bodeguita del Medio (Cuban Bar and Restaurant) Paseo Diaz Ordaz #858. Centro on the Malecon.
Great mojitos and live Cuban bands. Fun to watch the salsa even if you don't dance.  Be sure to sign the wall and check out the roof that opens for dancing inside under the stars.
Mandala, Paseo Diaz Ordaz #640,-Centro-Malecon, next door to the Zoo. Newest hip club, techno,house, and some hip-hop-pop.  Dress code and lots of locals on the weekends.
Nacho Daddy's-South Side-Basilio Badillo: is a fun place about two blocks from Andales that has live music on Thursdays and weekends.  They also serve up Tex-Mex food.  http://www.nachodaddymexico.com/
Punto V-Centro-Malecon-Another upscale nightclub similar to Hilo, Roo, and Mandala.  Probably because they have the same owners.  Club music, techno, trance, hip hop, and dance music.  Cover charge but ladies will often get in free.  Dress to impress. Many hip and trendy locals on the weekends.
Que Pasa Bar-625 Aquilles Serdan-South Side
A popular hangout for expats with an interesting mix of drinks, music, satellite TV, wireless internet, dart and pool tournaments, and poker games. Offers live music various nights through the week and a daily food special and drink specials.  A little off the beaten path but fun and worth checking out.
River Café Restaurant-On the Isla Rio Cuale.  Has gorgeous setting, mellow atmosphere, great live jazz duo in the high season.
Roo-Pronounced "Row", Centro-Malecon in the old No Name Cafe Location.  They change the decor every few months-outdoor area and inside night club.  One of the many hot spots on the Malecon.  Young hip crowd.
(Club) Roxy- South Side – 217 Ignacio Vallarta. Tel: 223-2404
The only rhythm and blues venue in Puerto Vallarta, also playing rock and reggae, with nightly music by the house or guest band from 9pm to 1 am, no cover charge. Often a lively crowd, especially when the bands get jamming on the weekends. A mix of locals and tourists of all ages. The line up changes so call for further details. Early happy hour with very cheap beers. A fun local bar to hang out. Daily, 8pm-2am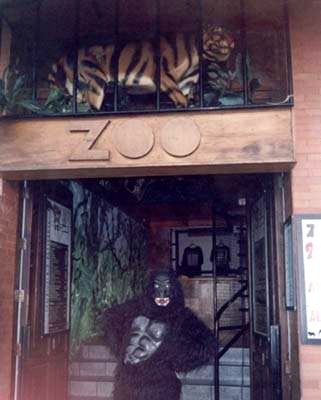 Senor Frog's– Centro-Morelos #518, now in the old Planet Hollywood location Tel: 222-5171 . This enormous tourist friendly nightclub draws a crowd big enough to fill it almost every night. It is known for a wild, happy time, younger crowd. A college spring break favorite. Sometimes live music.  Special themes and open bar nights-check to see as they change often.  Open Daily, noon to 4 am.
Xtine. -formerly Christine Discotheque-North Hotel Zone-Av. de las Garzas, at the Hotel Krystal. Tel: 224-0202.  A disco that is more of a "night club" with bottle service and more upscale than regular clubs. Huge bar. This well-equipped club attracts many hotel guests, conventioneers, and dance fanatics. Lots of young locals who dress to impress.  Sometimes they have open bar nights and theme nights.  Plays modern music for the under 30 crowd on a great sound system with techno, house, and hip hop. Dress code:  No tennis shoes or flip flops and no shorts for men. Daily, 10pm-5am. Cover charge.
Zoo– 630 Paseo Diaz Ordaz. Tel: 222-4945
All kinds of great dance music. Living up to its name, Zoo is a wild place to have a night out. Zoo's DJs and ambiance make it one of the most popular spots in town. Tends to be a younger crowd. Top 40, dance, rap. Cage to dance in. Best after midnight. Daily, 10pm-4am.
Z'Tai– lounge area dancing, Morelos # 737 in the Centro, in front of the Malecon. Upscale nightclub with rooftop terraza.  Theme nights and sometimes live music.