Puerto Vallarta – Pampering
Manicure/Pedicure:
Call Elle Salon at 223-2760 for reservations, located in Old Town Rodolfo Gomez St. #138. Yin-Yang will also make house calls for manicure/pedicures.
Massage at the Villa:
Cecelia provides in house massage.   She is a professional masseuse and very skilled.  Guests report she does one of the best massages they have ever had.  A 60 minute massage is $40 (plus tip).   Our houseman can arrange an appointment with Cecelia to fit your schedule.
Massage Services in Zona Romantica:
Metamorfosis: Francisco Rodriguez #159, near Olas Altas in Zona Romantica, full body, hour long, relaxation/therapeutic massages for $30-$35. Ask for Angie.
Venus: Aquiles Serdan #220, a block from Los Muertos Beach, hour long massages for $30-$35.
Spa:
Terra Noble is a day-spa overlooking Bahía de Banderas. Your cares begin to melt away as soon as you enter the rustic, garden-surrounded property. The vibe here is familiar and unpretentious, and prices are more accessible than at some of the area's more elegant spas. Treatment rooms occupy a small building down a series of stairs; refreshing after-treatment teas are served on an outdoor, tent-covered patio with a great sea view. You should arrange all spa treatments ahead of time. Don't be shy about calling; owner Jorge Rubio speaks English (and a bunch of other languages) fluently. Av. Tulipanes 595. 223-3530, www.terranoble.com.mx
Yoga:
Puerto Vallarta a Panacea for Yoga Lovers By Anna Laurita
You've just arrived to your beautiful villa and have been served limonada (lemonade) or Agua de Jamaica (the most delicious hibiscus tea) and are already starting to unwind poolside. "This is the life," you think, "now if I just had a yoga session to help me relax, renew and rejuvenate, it would be perfect!" Well you're in luck. In Vallarta, affordable and great yoga abounds. Whether it's a private teacher that comes to you or you go to a class at a local studio, you will find yoga for all levels and all walks of life.
First of all Puerto Vallarta is a great environment for yoga as it is warm and humid. Warm environments help your joints to release, help your muscles to elongate and the ligaments and tendons loosen and you increase your flexibility. This is a great advantage for yogi's. If warm yoga is not your thing, there are classes in town that provide air conditioning or if you hire a private teacher, you can organize your class in one of the climate controlled rooms of your villa.
Bring the Teacher To You, or Go To a Yoga School
You can bring a teacher to you and the cost range is between 700-1000 pesos (70-100 USD$) depending on the teacher. This price will get you a 75 minute- 1.5 hour session and applies to inside PV and Conchas Chinas only. Outside this area it is more costly. Beware of some teachers charging extra per person if your group is larger than 3 people. You can give a larger tip if your group is big, and that should be sufficient (a 10-20USD$ tip is recommended). If you hire a teacher to come to you, expect him or her to bring mats for your entire group, music, and props if requestedYou can take your class in the villa or take it on the beach. If you are traveling with children, you can organize a children's or teen's yoga group session and the price for this is aprox. 500 pesos (50 USD$) if organized directly after or before the adult's class.
If you choose to go to a yoga studio a Puerto Vallarta favorite is davannayoga (www.davannayoga.com) on the corner of Matamoros and Corona in the heart of Old Town. Another popular studio is Yoga Vallarta on Basilio Badilio street in Old Town (www.yogavallarta.com). Choose your style, hour you want to practice and go! The cost of these classes is usually about 10USD$ or 100 pesos and both studios offer discount cards if you want to take more than one class. Both studios have teachers that speak English. Mats can be borrowed in both places and in davannayoga, free water, free towels and free fruit is available. At davannayoga they have children's and pre-natal classes and they also offer children's yoga day-camp during school holidays. These camps are in town so you can drop the kids for some fun, go out exploring on your own and return to happy and relaxed children.
So whether you bring your yoga in or go out to explore the yoga studios in town, you will find many styles here with one intention, to relax, renew and rejuvenate the practitioners. Namaste!
Private Yoga Classes By Anna Laurita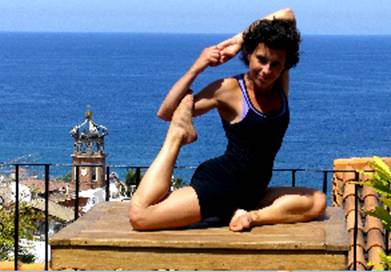 Certified Yoga Instructor Yogic Arts ™ & AFPA levels I & II
Hm: 322-223-0061
Cel: 044-322-147-0078
Email: anlauri@aol.com
Cost information:
700 pesos per hour – 1 hour (no limit to group size)
900 pesos per 1.5 hours ( no limit to the group size)
Equipment:
I can provide yoga mats and props (pillows, bolsters, blocks) as needed
Location information:
At your villa OR I have two beautiful and peaceful yoga spaces in my home to accommodate guests.
Anna has traveled extensively (spending over 13 years in Asia and Latin America) to learn techniques that promote health, happiness and peace. She is known for her powerful practice, intuitive understanding of the body and her creative, and engaging teaching style.  She can lead your yoga practice in English or Spanish . The practice can be for one person or a group.
Please choose a yoga session and contact your concierge to schedule:
Gentle, Restorative Yoga – This time is dedicated to you and restoring your energy and equilibrium in the body through a gentle hatha yoga-based practice including breathing exercises, long stretches, and gentle asana (poses). You will end with a relaxing savasana and aromatherapy gentle touch massage. All levels.
Basic Flow Vinyasa   – This practice is strengthening, flowing, opening and empowering. Time is spent flowing from one pose to the next with awareness to your breath. You will begin with breath and body warm-ups, and move through sun salutations and balancing poses ending in basic inversions and a sweet savasana. All levels.
Power Flow Vinyasa – This vigorous asana class is for those who want to gain strength and stamina from their yoga practice. Great for athletes. Flowing with your breath and staying in the asana for at least 5 breaths will help to achieve the mind/body/breath balance that leads to feeling "Yoga Good!" Expect to sweat. All levels.
Pre-Natal Yoga (1 hour)– This practice helps to alleviate common simple symptoms in pregnancy and helps mom-to-be feel strong, energetic and toned in a safe way. No yoga experience is necessary.
Partner Yoga – You will be led in yoga asanas and thai massage techniques together and learn partner poses that benefit both at the same time. No yoga experience is necessary.