Banana Boating: A boat pulls an inflatable banana boat behind it. You can find them at many beaches. Ride one at Muertos Beach, near the Rosarita Hotel, or in the Hotel Zone.
Boating with Javy: Javier Lopez Nunez (Javy) is a great guy, who speaks English like a gringo, and knows all the in's and out's of the area. He has a boat launch at his Dad's restaurant on the beach at Mismaloya (see directions below). He has a 25 foot metal panga with canopy called Estefany II as well as another metal panga. He also can provide 30 foot fishing boats when needed. Many of our guests have had a great time with him and have loved the prices and flexibility he can provide. His pangas are approximately $45 per hour with a 3 hour minimum (tip is optional but most people pay 10-20%). If you identify yourself as a guest of Villa Encantada, he will try to take you himself rather than having one of his men take you. It's more interesting when he takes you because it's like your own private tour! If you need it, he can set you up with food or drinks from his restaurant for your trip at very reasonable prices.
Possibilities for trips:
Snorkeling at Los Arcos which is very close to Javy's boat launch and restaurant at Mismaloya. or Majahuitas a few miles south of Mismaloya. Javy can provide all the gear. The panga can hold 8-10 people plus guides.
Fishing either close to shore or one hour away at the Marietta islands. He provides tackle and bait and can arrange larger boats if you wish. The panga can support 4 fishermen, guide and assistant.
Javy can arrange to drop you off at some of the gorgeous secluded beaches near Animas, then come back to pick you up at a designated time. These are beaches the party boats don't go to!
Arrange a fishing trip, then leave it up to Javy's staff to clean the fish and to serve them up on a moonlit table at the beach in front of his restaurant with chips, guacamole, rice beans, etc. He only charges you $5 per person for the service including the food! This is a real FUN experience.
Scuba diving. He doesn't have a full blown dive boat but does have complete gear for two people and can get you any amount of tanks you need. He can also take you night diving for lobster. He says they usually get 15-30 lobsters on a trip
For a romantic outing for a single couple ask Javy to drop you off for the day at the secluded small beach just around the corner from Mismaloya. If somebody beats you to it, he can take you a little farther south and leave you at a secluded beach under the palm trees.
He can also leave you off at a clothing optional beach south of Mismaloya.
A boat ride to Quimixtle where you can get a $12 horse ride through a pueblo to a beautifull waterfall and swimming hole and waterslide.
You can arrange a trip where you do any combination of the above or even get in some whale watching at the right time of the year.
Directions: Take a bus or cab approximately 8 miles south of Puerto Vallarta to the Barcelo La Jolla de Mismaloya Hotel. Just to the left of the hotel entrance you will see a cobblestone road leading to the ocean . The road is on the right side of the river. Follow it all the way to the ocean where to the left you will see a wooden bridge spanning the river. Follow this over the river to Javier's restaurant and ask for Javy!
Reservations: It's best to call ahead and schedule a time.
Cell: 044 322 149 6959 (011 52 1 322 149 6959 from US) Phone at Restaurant: 322 228 0366 Home: 322 228 0227
Boating – Hiring a Boat: If you are somewhere where you don't have a reference for a boat, and want to hire one, try to deal with the captain of the boat directly. If you deal with a vendor for a boat, two problems can occur. First, the vendors will mark up the cost of the boat, in some cases as much as double. Secondly, and more importantly, vendors have a tendency to promise more than the captain of a boat is able or willing to do. Once you are out on the water, the captain finds out that you have been overpromised, but at that point it is difficult to change things. The captain then has to make you happy at his expense or worse, to make you unhappy by not delivering some of what the vendor promised. (For example, with fishing boats, at some times certain types of fish require going on a 6 hour trip, but you may have paid for only a 4 hour trip) Not all vendors will do this, but it is certainly easier if you are dealing with the captain of the boat directly. The captain of a boat will normally not be walking on the beach, but will be on his boat right off the beach. Also, a captain will often have a card for his boat, whereas vendors usually don't.
Boogie Boarding:
The waves for boogie boarding tend to be a lot better in the winter than the summer . If you can't borrow or rent a board Costco, Sams, and Walmart often carry inexpensive ones.
Puerto Vallarta-at the mouth of the Rio Cuale where it meets the ocean along the Malecon: At some times of the year has small waves that are a good place for kids to learn to boogieboard.
Bucerias and Sayulita: north of Puerto Vallarta both have good spots for boogie boarding.
Nuevo: The waves in the Nuevo area north of Puerto Vallarta can vary dramatically depending on the time of year, what the wind is doing, whether there are any major storm systems passing by (further out in the ocean), tidal activity, etc. You can frequently experience very good boogie boarding in Nuevo, but it's not really predictable and you can't count on having good waves for the particular time you are there. It's not a bad option, though.
Destiladeras Beach: (shown below) Is located between La Cruz and Punta de Mita. It's very popular with boogie boarders. Good day / afternoon trip, and readily accessible using public transportation (buses or taxis). One of the best spots to try.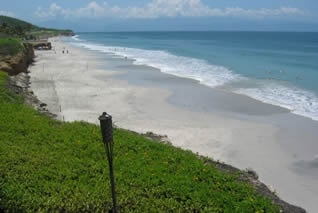 Dreams Villa Magna beach in Nuevo Vallarta: has three to five foot waves at certain times like January and has a gentle sloping beach with no rocks which makes for good boogie boarding.
Chico's Paradise: JR thinks is better than Chinos because of location. It's on a river that normally has more water than Chino's.
Chino's Paradise: Large restaurant/bar palapa right on the river at Km.2, Rio Arriba , Mismaloya, just up the road from the zoo. Beautiful water setting with small waterfall and nice area for kids to swim in, with small sandy beach. You are allowed to swim there even if you are not eating at the restaurant. Close to the Zoo and the Eden Predator site. There is a jungle hiking trail nearby. Good place to cool off after seeing the zoo.
Dolphins–Swim With Dolphins: The dolphin center in Nuevo Vallarta is one of the few dolphin and marine mammal educational facilities in the world where people of all ages can interact face-to-face with Pacific Bottlenose dolphins. Many of their staff members are marine biologists and naturalists. Swim and Play with Dolphins for 60 minutes $142, Dolphin Encounter $69, Kids Swim with Dolphins for 30 minutes $54, Trainer For a Day $225, Dolphin Adventure Center, Paseo de Las Palmas, #39, Nuevo Vallarta, 322 297 1212. Supposed to be a great experience.
Three programs daily, Monday through Saturday 11 a.m., 1 p.m. and 4 p.m.
Dolphins In The Wild: Dolphins are in the bay all year long, so your chances of seeing them are good. Dolphins are very curious and will often come up to within 2 or 3 feet of your boat!
Open Air Expeditions (www.vallartawhales.com) runs good trips on small 12 person semirigid boats. The cost is $68 per person with a minimum of 4 people required to go (doesn't have to be just your party) and a maximum of 12 passengers. One thing that sets this tour apart is that the tour operators, Ricardo Lugo and his wife are well known naturalists. Ricardo has had his photos published in National Geographic and many other publications. If you are a wildlife photographer, it's a way to get some great advice from one of Mexico's top photographers.
Fishing- Ocean Fishing:
For larger game you will need to allow a full day as you will be going out between 30 and 40 miles so there is some boat travel involved. November is considered the best month of the year in Puerto Vallarta for Marlin, Sailfish, and Dorado. This does not mean the other months are not good. It is just not the peak of the season. There are many good charter companies around. One thing that has proven to be helpful in the past is to take a trip to the docks around the time you are thinking of going around 3pm or so and look for the boats which have the most flags on signifying their catch of that day, speak to the representative or crew and make your decision. There are three important factors you should consider when selecting a boat and crew (1) make sure you have an experienced skipper and mate (2) opt for a fast boat which suits your needs, the sooner you get out there the sooner you are fishing (3) try to get a live bait tank on your boat. Make sure all licenses and fees are included in your quote, beer and lunch is negotiable. For smaller game there are half day trips available inside the bay.
Fishing With Carolina: Candace at fishingwithcarolina@hotmail.com Gets good reviews. Runs her own boat and handles others as well. Recommended by JR. Four hour trip for $350.
Fish With Babalou: Louis , 322-205-4246, operates out of the Los Piernes Pier. 29 foot Super Panga. Have had good reports on him. His rates are a lot lower than the norm.
Hugo: hgarce@hotmail.com 3 well kept boats, smallest is 36 foot, and excellent crews
Brunofishing@yahoo.com, Victor Tharp, three boats. Miramar II is their economy boat, $400 for 8 hours, 11 MPH; Miramar III is $500 for 8 hours, 40 foot boat, 15 miles per hour; Miramar IV is $600, 30 MPH for more fishing time and less travel time. All charters include tackle, bait (live and dead) all permits and cooler with ice.
Marlas Fishing (the Osuna brothers) : recommended as one of the best by Miles Lineberger, the fishing writer. Have three 30 foot sportfishing boats. Has one of the best reputations. www.marlassportfishing.com
Pangas at Punta Mita: Local fishermen have formed a Cooperative. (At Anclote Beach, Av. El Anclote 1, Manzana 17 #1, Nuevo Corral del Risco, 329 291 8288. ) The guides may not speak Enlish as fluently as the more polished PV operators, but they know the local waters. Rudi is a guide who speaks English well. His number is 329 291 6722. His Captain is Chuy at 329 291 6290. Sportfishing from a panga costs about $45 hour, with a 4 hour minimum for up to five people. Two hours of whale watching or snorkeling around the Marietas Islands, for up to 8 people, costs aroound $80.
Pacific Fishing, Inc. High-season prices for an eight-hour trip, including lunch, gear, and bait, are $600 for a cabin cruiser and $450 for a super panga; there's a discount in low season (late spring through early fall). 221-2616
Charter Dreams: 322 221 0690, pricier but one of the top "big catch" charters.
Fishing-Bass Fishing:
Cajon de Pena Lake: Fabulous bass fishing. Black bass ( 13 pound record) and Florida hybrid strains. Also contains hybrid tilapia, similar to croppy, that goes to 3 pounds or more. Fishing best at dawn or late afternoon just before sunset. Midday is very slow so you need to leave PV no later than 6 am and preferably before to arrive for the morning bite. Bring baits or go to Zaragosa Marine Supply across from the Sheraton Hotel. Top waters, spinner baits, and six to eight inch red or pumpkinseed worms with scent work best. You can also troll crankbaits in front of the dam in the evening hours. There are some local guides available and a few agencies that book online.
Two hours south ( 60 miles) of PV at La Presa Cajon de Pena, a 7000 acre lake. The turnoff to Cajon is well marked at the 130 KM marker of Highway 200 between Melaque and PV. The nearest hotel is in Tomatlan 30 minutes away.
Bass fishing guide: Steve, is a PV fishing guide who can take you to Cajon de Pena: 322 224 8749, cell 044 322 101 1880. Leaves 5:30 am and returns at 5:30.
Bass fishing guide: Myles Lineberger has 12 hour day trip that includes everything for $180 person, or with overnight stay at their bass camp is $240. The day trip is 3 anglers. mylesrmt@yahoo.com
Fishing-Shore Fishing: No license is required for shore fishing. A good spot is at the mouth of the river by El Nogalito, not far from Mismaloya. Use rapelas and other casting bait/lures or a treble hook with a leader and some squid. If you have a casting net (flat with no metal) you can also catch sardines for bait. You can buy squid at any grocery store. Best pole and reel would be for larger fish like Northern/Walleye.
Jellyfish: Like many tropical areas, Puerto Vallarta occasionally experiences jellyfish in the water in some areas. A good product is Safe Sea Sunblock With Jellyfish Sting Protective Lotion which can help protect you from the sting of a jellyfish.
Jetskiing: Muertos Beach and Mismaloya Beach are hotspots for jet ski rentals.
Kayaking: Vallarta's warm waters are great for kayaking with turtles, giant mantas, and dolphins often being seen close to shore, and even whales a few hundred yards offshore.
Vallarta Sea Kayaking has a 6 hour kayak adventure from Boca de Tomatlan to Colomitos Beach. Adults $63, kids $47, book with www.puertovallartatours.net Includes lunch, snorkel and kayak gear, and transportation.
Kiteboarding: Airfish Kite School has a nine hour course divided into 3 three hour sessions. One on land, one in the water without a board to learn how to coordinate the movement of the water and the kite, and one practicing with full gear. On the beach in Bucerias every afternoon. 044 322 131 7563.
Las Animas Beach: Las Animas is only accessible by boat (unless you do the three mile hike from Boca). Least expensive way to get there is take a bus to Boca, and then take a $5 per person water taxi to Las Animas. Las Animas has numerous beachside bars and restaurants. If Animas is crowded and you want a quieter spot, check out beautiful Los Caballos Beach while you are there (500 yards north of Animas in the direction of PV with beautiful white sand and coconut trees)
Las Caletas Day Cruise: Take a cruise to film director John Huston's former home. This beach is one of the prettier and more secluded private beaches south of PV. Every Mon-Sat from Vallarta's Maritime Terminal at 9:00am. Takes 6 hours. Adults $85, children under 12 are $60. Includes a light breakfast, great buffet lunch, open bar, snorkeling, and kayaking equipment and guided tours. Spa treatments and scuba diving are extra. www.vallarta-adventures.com (Tip: Check the cruise ship schedule (www.cruisecal.com/portal/ ), go on a day the cruise ships aren't in, and your trip and the beach will be much less crowded! Some tour agents recommend Friday, Saturday, or Sunday for less crowding. The one downside of this trip is that the boat ride takes up 3 of the six hours leaving only 3 hours on the beach and one of these hours is the lunch. Some people absolutely love this trip, while others are turned off by the crowds and the lack of time at the beach. An alternative that will gain you more time on the beach is to take a taxi or bus to Mismaloya and hire a panga (see Boating With Javy) to take you to one of the secluded southern beaches. You won't be able to go to Caletas Beach, but some of the other southern beaches, like Los Caballos, are gorgeous too!
Los Caballos Beach. For an inexpensive day trip to a beautiful palm fringed beach take a taxi or bus south of Vallarta to Boca de Tomatlan. From Boca, get a water taxi for $6 person or your own private panga for $25 and go to Las Animas Beach. You can get drinks and food at restaurants right on the beach if you wish. To get to Los Caballos Beach walk about half a mile along the beach back towards Puerto Vallarta. You will come to an absolutely beautiful beach that rarely has many people on it. Great way to spend a day!
Las Gemelas Beach: (pictured below) Is a beautiful white sand, tree fringed beach south of town with a roped off swimming area. See more information on it under our "Beaches" section.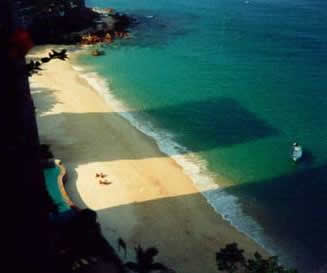 Ocean Grill: As someone once put it, this is a great "soft adventure". Catch a cab or bus to Boca on the highway south of PV and then call the Ocean Grill Restaurant to send a boat to pick you up. (its best to make reservations ahead of time and be sure to check on which days they are closed) The panga will pick you up and take you on a five minute water trip to Ocean Grill which is located next to Colomitos Beach (a lovely but small beach) in a scenic bay. The restaurant is built on the hillside directly over the ocean. The food is great and the setting is to die for. You could also combine this with a stay at Colomitos Beach. All in all a great day trip, or half day trip. Highly recommend!
Parasailing: Parasailing and other watersports are available at many beaches along the Bay of Banderas. The most popular spot is at Los Muertos Beach. Wave Runners, banana boats, and parasailing are available by the hour, half-day, or full day. There have been some accidents at Muertos parasailing due to the bay being windy at times and the close proximity of some buildings there—this is the one sport you might want to pass on!
Pirate Ship: This voyage on the pirate ship Marigalante, filled with adventure and fun, relives the heroic feats of Captain Crispin the Terrible. Morning tour (more fun for kids) leaves at 9 a.m. and ends at 3:30 p.m. from Monday to Saturday. Includes breakfast, lunch, snorkeling at secluded beach and open bar. Cost $68 adults/$34 children. Night tour (better for adults) with dinner and fireworks starts at 5 pm. 15% discount for booking online. www.pirateshipvallarta.com (Tip: Check the cruise ship schedule (www.cruisecal.com/portal/ ), go on a day the cruise ships aren't in, and your trip will be much less crowded!)
Rythyms of the Night: A sunset cruise, open bar, and romantic candlelight dinner on a secluded beach, and then a show with dancing performers and fire telling you the history of their people. At Las Caletas Beach, Monday-Saturday at 6:00 pm from the Vallarta Adventure Center in Nuevo Vallarta, or 6:30 pm from the Puerto Vallarta Maritime Terminal. Approximately 5 hours, $78 USD. The majority of people find this a very romantic trip with an interesting show, but some find the food buffet subpar. Opinions vary! It's a long ride, so if you get seasick, take a pill ahead of time. Sometimes crowded, so go on Friday or Saturday night and you will avoid the cruise ship crowds.
Sailing:
Pegaso Sailboat Charters has private charters and individual $50-80 four to eight hour sails and are known for having some very nice classic 40-60 foot sailboats, 290-0705. Their Sunset Sail is popular. One of their Sunset Sails is an Adults Only sail. Great food & drinks with generally smaller groups. http://www.pegasochartering.com.mx/
Vallarta Adventures has a variety of sailing trips. Their Sunset Sail is popular – you can book and get more info on their website. If you book on their website, you get a discount. The Sunset Sail has an open bar and appetizers and they actually put up the sails instead of just motoring around the bay. They leave from Vallarta Adventures office on the side of the Marina across from the cruise ship dock.
Scuba Diving/Snorkel
The dive sites for the diving service providers below, for combined snorkeling and diving, generally include those listed below. They are accessible by boat only except that Colomitos can be hiked into.
Los Arcos Underwater National Park (pictured below) , with depths of 25-60 feet. A great place for non expert snorkelers and divers. Go before 10:00 am and you will avoid the party boats. Los Arcos has the best snorkeling in PV.
Colomitos (south side of the bay near Boca). Enjoy the small beach while you are there. There is some limited snorkeling to the left of the bay if you are on the beach facing the ocean. Ocean Grill Restaurant is about 200 yards away. Make a reservation for the restaurant and enjoy both!
Majahuitas beach and its caverns (far south side of the bay) Has a gorgeous beach.
Marietas Islands ecological sanctuary with its bird populations and many lava tubes and cave formations, as well as turtles, morey eels, and rays. While you are at Marietas, see "Playa del Amor", only accessible by sea crossing a beautiful arch. Also, if you are at Yelapas, the rocks on the right side of the cove have some snorkeling. Los Arcos is supposed to have some great night diving.
For expert divers, recommended places are La Corbetena (where you can sometimes see 20 foot mantas), Los Anegados, El Chimo on the far southern bay shore with its giant manta rays and interesting underwater terrain, and big pelagaic animals; El Morro some 30 miles out from Puerto Vallarta in the Pacific Ocean to see the underwater pinnacles and caves as well as the whale sharks, rays, jacks, sailfish and mantas. These latter diving spots are not recommended for snorkelers.
Per JR, water clarity, away from river mouths, is far greater in the summer (rainy season).Winter: November through May, the water temperature is 68 to75 degrees with visibility of 15 to 50 feet. Summer: June through October, the water temperature is 78 to 85, with visibility of 60 to 130 feet.
For the companies below, cost is about $80 for a two tank dive to Los Arcos and $30 for a snorkeling trip to Los Arcos.
Chico's Dive Shop. Located on the Malecon in El Centro. Puerto Vallarta's well known scuba diving operator since 1968. Guided tours aboard catamarans or speed boats. Central – 772 Paseo Diaz Ordaz, 222-1895, www.chicos-diveshop.com
Vallarta Adventures. PADI-certified scuba instruction and dive trips to Las Marietas Islands, Las Caletas, Los Arcos at night, Corbetena, and the world class site at El Morro with it mantas, large schooling fish, turtles and dolphins. Marina 297-1212 www.vallarta-adventures.com
Pacific Scuba. Daily trips to all local dive and snorkeling sites, with top of the line gear; lunch and drinks included. North Side – Francisco Medina Ascencio 2486. 209-0364 www.vallartaundersea.com.mx
Also:
http://www.twindolphinspv.com/
Javy. (see Boating with Javy above) Javy can take you snorkeling at Los Arcos or Majahuitas on a panga from his location at Mismaloya Beach.
Sea Life Park (used to be Splash Waterpark): Nuevo Vallarta waterpark where kids can plummet down enormous water slides, swim, and play on playground equipment and carnival rides. The park has been totally remodeled with a great dophin facility, outdoor theater and sea lion, tropical bird and dolphin shows daily at noon. The park is open year-round and is located just right off the entrance to the Nuevo Vallarta tourist Zone (10 minute drive from P.V.R. Airport). Tepic – Puerto Vallarta Highway Km. 155. The swim with dolphin programs are similar to the other dolphin excursion at the nearby Vallarta Adventures and the quality at both programs is first class. Swimming with dolphins starts at 10 am thru 4 pm and the park opens at 11:00 for general admission. Cost: $18 for adults, $14 kids for waterslides – price does not include shows or Dolphin Encounter ($69 adults, $59 children), 297-0723. Check sealifeparkvallarta.com to check days open.
Surfing:
Sayulita has become a popular little surf town and has a pretty beach a 45 minute drive North of Puerto Vallarta. It has good surfing and and boogie boarding and you can get surfing lessons and boards from shops right on the beach. One of the best places in Mexico to learn to surf. It has a fun pointbreak with a rock bottom that breaks left and right. The main beach is a right (longboard) break which gets most of the swell. It's usually the busiest. The left break (faster) is smaller and further south, to the right of the river mouth. It's usually less crowded, but can't take many surfers. Nayasurftours.com
La Cruz de Huanacaxtle to Punta de Mita: The best surf areas are here, but it takes a long walk or using a boat to get to them. In Punta de Mita you can hire a panga owner to take you to La Lancha or some of the other good areas.
Punta Mita is a great break over a coral reef with fast hollow rights, but it's hard to get to. The point was purchased by the Four Seasons Hotel chain and closed off to outside traffic. Most surfers go by boat now; boats are available for charter at La Cruz.
El Anclote: The gentle waves at El Anclote make it a good place for beginners to learn to surf. You can rent surfboards for $5 an hour and take lessons from one of the companies in that area. Kimme at 329 291 6475 is an ex pat in the area who is an excellent instructor.
Surfing Tour:
Cisco at Nayasurftours is a character who is a world class surfer and gives lessons and surf tours to areas surrounding Sayulita. He is also the owner of Leyza Restaurant near the Sayulita Main Plaza.
Eco Ride Surf Tours will pick you up at and take you south (to Pangas, Burros, Pascuaritos, or Sayulita) to enjoy surfing. In the case of beginners, the guide will give you a basic surfing lesson before going in the water. They provide surfboards as well as boogie boards. Includes snack and lunch. Minimum 2 persons, $100 per person.
Ollasvallarta.com has surf tours.
Surf Shop: Coral Reef Surf Shop is a complete hard core surf shop with board rentals, information, apparel, and everything surfing related.
Turtles: The Sea Turtle Preservation Program provides enclosed pens for incubating eggs and an unforgettable experience for those who take part in the release of the baby turtles on their voyage out to sea.
Water Taxis: Leave from both the Los Muertos pier as well as Boca de Tomatlan for some great beaches south of Vallarta. They are inexpensive and offer you more freedom to follow your own schedule than the organized boat tours. Although they will try to sell you a two way ticket, you will have more flexibility if you just buy a one way ticket each time. This way you can come back with whichever water taxi is available when you are ready to go. If you use the ones out of Boca de Tomatlan, the bus ride from Vallarta to Boca is quite scenic. You can take a 120 peso taxi or a 60 cent bus to Boca de Tomatlan which is about 10 miles south of PV. From Boca , catch a 60 peso water taxi that can take you to Yelapa or Mahajuitas, which are only accessible by beach.
Whale Watching:Vallarta is very popular as one of the best places in the world to view Humpback whales in their natural habitat. From November to March, massive humpback whales migrate to their treasured breeding grounds in the warm waters off the coast of Puerto Vallarta. At times, the whales even appear in Banderas Bay itself. The great marine mammals are often visible from higher coastal vantage points and seaside restaurant balconies, but organized tours are also available from Vallarta Adventures and other providers. The waters around the nearby Las Marietas Islands offer particularly good viewing in a wilder natural setting.
Whale watching season in PV is typically from early December to late March–that is when licensed boats may approach them. (the whales don't live by these rules-they come and go when they want!)
Open Air Expeditions has $78 four hour trips from December to March on a 12 person semiinflated boat equipped for whale watching. The company is run by marine biologists and oceanographers. (www.vallartawhales.com) The rest of the year they have a Dolphins in the Wild four hour trip which includes snorkeling at Los Arcos for $50. Best whale tour per PVJenny.
Pegaso Sailboat Chartering has $50-80, 4-8 hour trips whale watching and snorkeling in Banderas Bay and to the Marietta Islands in traditional 40 foot and 60 foot sailing ketches, 290-0705.
Vallarta Adventures has several different types of whalewatching trips. They have radio contact with a spotter plane, which they claim increases the chance of seeing whales to 9 out of 10 times.
(www.vallarta-adventures.com) Kimmy is supposed to be an excellent guide who "lives" whales.
Windsurfing: The north end of the bay tends to be breezier and is excellent for windsurfing or boogieboarding. You can rent boards to windsurf next to the Marival Hotel in Nuevo Vallarta.
Yelapa: The secluded fishing village and beach of Yelapa is about an hour southeast of downtown. Seafood shanties edge the sand, and parasailors float high above it all. From here, you can hike 20 minutes into the jungle to see a small waterfall (often dry in winter).
The road south of PV heads inland at Boca de Tomatlan, so to reach Yelapa you must take a water taxi. You can take a day excursion from Marina Vallarta's cruise-ship terminal. A less expensive alternative is the water taxis that depart from the pier at Los Muertos at 10:30 and 11 am for Yelapa and return to pick you up around 3 or 4 PM. Always check return times—if you miss the last boat back, you are stranded for the night!
The easiest alternative of all is to take a bus ( a bus will give you some tremendous views from high up if you sit on the ocean side) or taxi to Boca de Tomatlan, and then take an inexpensive water taxi to Yelapa Beach—a lot cheaper than taking a tour. It's best to buy your ticket direct from the boatman, and don't buy a roundtrip ticket so you are not locked into returning on the same boat. ( You can catch the Boca/Mismaloya bus at three southside locations: corner of Constitucion and Basilio Badillo, corner of Insurgentes and Basilio Badillo, or the corner of Aguacate and V. Carranza.)
If you want to avoid the large tourist boat that arrives at Yelapa around noon, leave for Yelapa around nine am. Just before the noon boat comes in, hike up the river to the waterfall and swimming hole. Most of the tourists will tend to go to the smaller one near the village. If you don't go back to the beach before 2 to 2:30pm, the tourist boats will have left by then. Remember to use a lot of insect repellent for the no see ums. Yelapa can also be reached by hiking or mountain biking down from El Tuito but it's a long way in.