Villa Encantada Menu
Here is a sampling of items on our extensive seven page menu. Our chef, Walter, formerly worked at a seafood restaurant — his seafood offerings are outstanding!
Breakfast
Strawberry or Mango Crepes with Cream Cheese Filling
Chillaquiles
Sliced Fruit Plate
Appetizers
Shrimp Cocktail and Salsa
Fresh Shrimp In Lime With Avocado
Fresh Guacamole Dip
Fresh Salsa and Tortilla Chips
Seafood
Jumbo Shrimp Wrapped in Bacon and Grilled
Coconut Shrimp with Mango Sauce
Langosta with Garlic Butter
Filet of Pacific Red Snapper cooked veracruz, with:

Butter Sauce,
Garlic Sauce,
Sarandiado Sauce or
Coconut lime sauce.

Barbecued Mahi Mahi Kabob
Meat
Enchiladas Casera
Chile Relleno
Chicken or Beef Tacos
Desert
New York Cheesecake
Key Lime Pie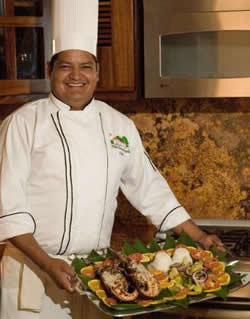 last minute specials
For arrival within 30 days of reservation.
---
High Season: $650 per night
---
Value Season: $450 per night
---
Special Rates
High Season: $950 per night
---
Value Season: $580 per night
---